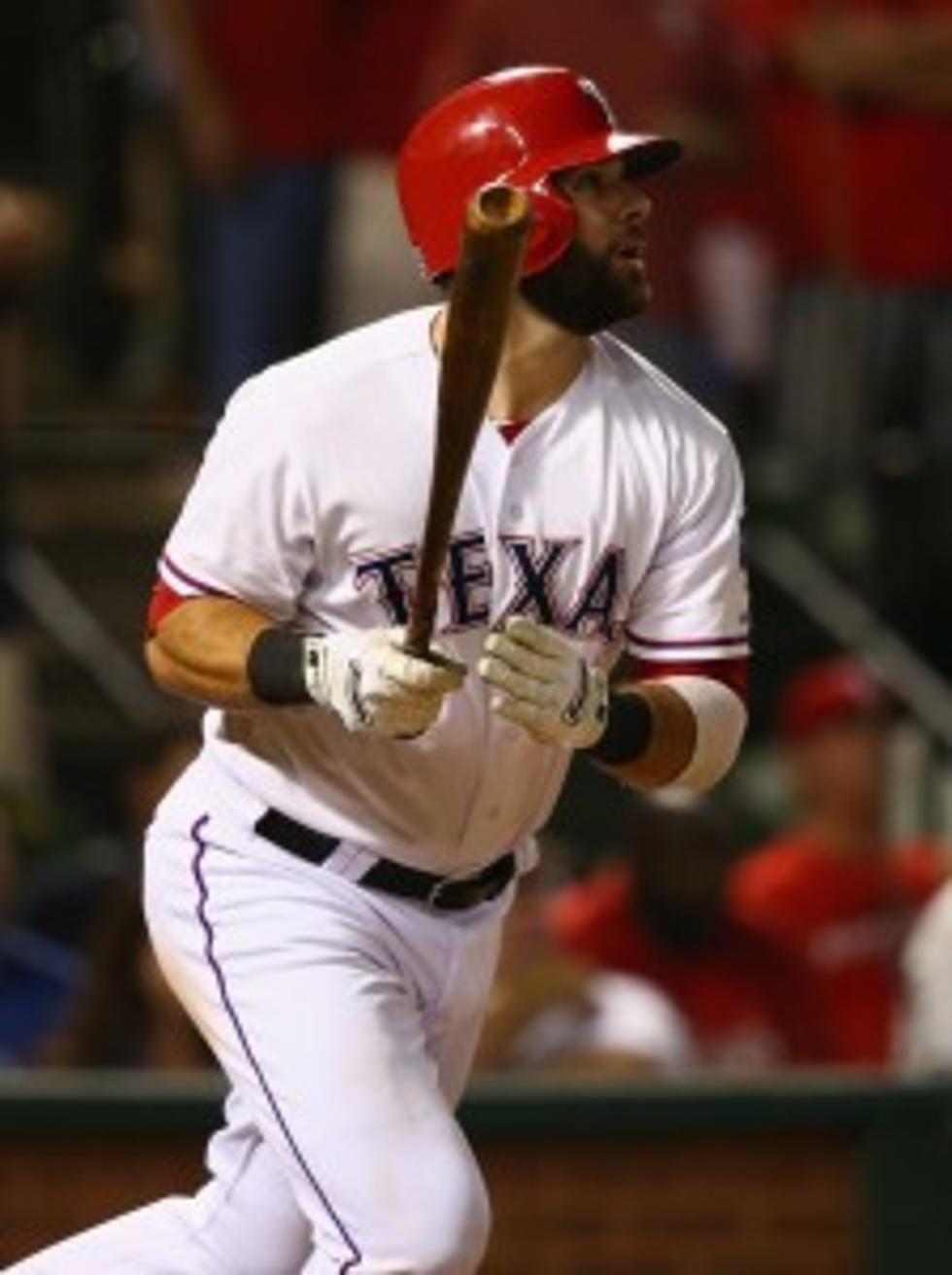 AP Wednesday Sports Roundup
By:Ronald Martinez/Getty Images Sport
Rangers leapfrog over Astros
UNDATED (AP) — There's a new leader in the American League West, and it's the team that finished in the division cellar last year.
Texas squandered an early 4-0 lead before Mitch Moreland lifted a sacrifice fly in the bottom of the ninth to give the Rangers a 6-5 victory over Houston. Adrian Beltre  went 4-for-5 with two RBIs, including a game-tying double in the fourth. Prince Fielder added three hits and an RBI for the Rangers, who moved a half-game ahead of Houston.
The Rangers have gone 13-6 since falling 5 ½ games out of first on Aug. 26.
The Astros had been in sole possession of first place since July 29. They now own the lead for the second AL wild-card berth, 1 ½ games ahead of Minnesota.
In other major league finals:
— St. Louis has opened a three-game lead over Pittsburgh in the NL Central by rallying for a 3-1, 10-inning triumph at Milwaukee. Jason Heyward capped his three-hit night with a two-run homer in the top of the 10th after scoring in the sixth on Jhonny Peralta's single. Carlos Martinez settled for a no-decision after fanning nine while limiting the Brewers to a run and four hits in eight innings.
— The Pirates began their doubleheader with the Cubs by blowing a 4-1 lead before Starling Marte lifted a sacrifice fly in the eighth to give the Bucs a 5-4 win over Chicago. Travis Snider drove in two runs for the Pirates, who are 21-5 in one-run games at PNC Park.
— The Cubs took the nightcap of their twinbill in Pittsburgh as Jon Lester tossed a five-hitter in a 2-1 triumph over the Pirates. Anthony Rizzo's RBI double in the first put the Cubbies ahead to stay before Dexter Fowler added an RBI double in the fifth.
— Miami put an end to the Mets' eight-game winning streak as Dee Gordon went 4-for-5 with a two-run homer and two runs scored in the Marlins' 9-3 rout in New York. Christian Yelich and Justin Bour (bohr) each had three hits and two RBIs for the Marlins, who kept the Mets' magic number for clinching the NL East at 10. New York's division lead is 8 ½ games over Washington.
— Bryce Harper homered twice and had four RBIs as the Nationals blanked Philadelphia, 4-0. Stephen Strasburg was brilliant over eight innings, striking out 14 and holding the Phillies to one hit. Cody Asche had the Phils' lone hit, a leadoff single in the bottom of the fifth.
— The Dodgers erased a 4-2 deficit in the seventh and a 4-3 hole in the 11th before losing to Colorado 5-4 on Nolan Arenado's solo blast in the 16th. Chris Heisey had two RBIs for Los Angeles, which still leads the NL West by 8 ½ games over the Giants. The Dodgers' magic number is 11.
— Todd Frazier's 10th-inning homer lifted Cincinnati past San Francisco 9-8, inching the defending World Series champs closer to playoff elimination. Ivan De Jesus Jr. hit a two-run triple and had three RBIs for the Reds, who scored five times in the seventh to take an 8-5 lead. Buster Posey hit a three-run homer and provided a game-tying single in the ninth to force extra innings.
— Atlanta had dropped 12 straight at home until Andrelton Simmons poked a walk-off single in the bottom of the ninth to give the Braves a 3-2 triumph over Toronto. Simmons had two RBIs for the Braves, who led 2-1 until Justin Smoak homered in the sixth. The AL East-leading Blue Jays have dropped two straight, leaving them 3 ½ games ahead of the Yankees.
— Nick Franklin ripped a go-ahead, two-run homer in the sixth to lead Tampa Bay to a 6-3 win over the Yanks. J.P. Arencibia added a two-run single in the eighth to help the Rays overcome homers by Alex Rodriguez and Greg Bird. Winning pitcher Jake Odorizzi gave up three runs and three hits in six innings as the Rays dealt the Yankees their sixth loss in eight games.
— Kansas City was a 2-0 winner at Cleveland behind Kris Medlen, who gave up five hits in 6 1/3 innings. Alex Rios hit a solo homer off hard-luck loser Josh Tomlin, who took the loss despite going the distance on a four-hitter. The Royals' magic number to clinch the AL Central is nine.
— Victor Martinez provided three hits and two RBIs in Detroit's 5-4 win at Minnesota, which drops the Twins 10 games behind the AL Central-leading Royals. Alfredo Simon gave up three runs and pitched into the seventh for his 13th win. Miguel Sano  hit a two-run single in the seventh, but he also struck out with the potential tying run on second to end the game.
— David Murphy's three-run shot fueled the Angels' important 4-3 triumph at Seattle. Mike Trout smacked his 36th homer of the year, a solo shot that pulled Los Angeles within 3 1/2 games of the Astros in the AL wild-card race. Mariners designated hitter Nelson Cruz banged out his 42nd homer to tie Baltimore's Chris Davis for the major league lead.
— Baltimore beat Boston 6-5 on an RBI single by Chris Davis in the bottom of the 13th. Steve Pearce hit a two-run homer and Manny Machado added a solo shot as the Orioles won for the sixth time in seven games.
— Josh Reddick delivered a two-run homer and a two-run single while Oakland scored 10 times in the fourth inning of a 16-7 rout of the White Sox in Chicago. Marcus Semien also homered and Billy Butler was 3-for-5 with three RBIs.
— A.J. Pollock launched a three-run homer to highlight the Diamondbacks' five-run seventh in a 6-4 win against San Diego. Arizona rallied after Padres starter Tyson Ross held the DBacks to a run and four hits while striking out nine in six innings.
Tribe's Kluber cleared for Thursday start...Cards activate Holliday
UNDATED (AP) — Indians ace Corey Kluber is now scheduled to start Thursday against Kansas City after been cleared to return from a right hamstring injury. Kluber's return is a big boost for the Indians, who have won 13 of 18 to get back to .500 and contend for the AL's second wild-card spot. The reigning AL Cy Young winner hasn't pitched since Aug. 29, when he lowered his ERA to 3.41 with six innings of two-run ball against the Angels.
Cleveland inks QB...Bills prepare to activate DT Dareus
UNDATED (AP) — With starter Josh McCown recovering from a concussion, the Browns added depth at quarterback by signing Matt Blanchard to their practice squad. McCown is following NFL concussion protocol after getting hurt on the opening drive Sunday. It' not known if he'll play in Sunday's home opener against Tennessee, and the Browns are preparing Johnny Manziel to face the Titans.
— The Oakland Raiders have brought back safety Taylor Mays and defensive lineman C.J. Wilson less than two weeks after they were cut. Safety Nate Allen was placed on injured reserve with a designation to return and tight end Gabe Holmes was waived Tuesday to make room on the 53-man roster.
— The Redskins have placed Duke Ihenacho on the season-ending injured reserve and signed free-agent cornerback Will Blackmon. Ihenacho left Washington's season-opening loss to Miami last Sunday with a fractured and dislocated left wrist.
— The Buffalo Bills have released running back Bryce Brown to free a roster spot for defensive tackle Marcell Dareus' return from a one-game suspension. Brown was not active for the game Sunday, and had been used sparingly for most of the offseason.
— The Green Bay Packers have placed Sam Barrington on season-ending injured reserve after the starting inside linebacker left the opener against Chicago with a foot injury. Defensive end Datone Jones was activated to replace Barrington on the roster. Jones served a one-game suspension for a violation of the league's substance abuse policy.
— Todd Gurley took snaps with the St. Louis Rams' first-string offense for the first time, and coach Jeff Fisher wouldn't rule out the running back for this week at Washington as Gurley returns from a left knee injury. The 10th-overall pick in the 2015 draft, missed the team's opening 34-31 overtime win over the Seahawks.
— A person with knowledge of the deal says the Dallas Cowboys have acquired receiver Brice Butler from Oakland for a conditional late-round draft pick after losing All-Pro Dez Bryant for at least a month with a broken right foot. Butler was inactive for the Raiders' season-opening 33-13 loss to Cincinnati.
Injury updates from the college game
UNDATED (AP) — Eighth-ranked Notre Dame has lost another starting player for the season. Tight end Durham Smythe joins quarterback Malik Zaire as well as nose guard Jarron Jones and running back Tarean Folston on the sideline after tearing the MCL in his right knee late in the fourth quarter against Virginia. The Irish are facing No. 14 Georgia Tech this Saturday.
— Eleventh-ranked Clemson will be without starting center Ryan Norton for Thursday's game versus Louisville. Tigers coach Dabo Swinney says that Norton sprained an MCL in his knee during drills on Monday.
— No. 18 Auburn will face 13th-ranked LSU this week without defensive back Joshua Holsey, who is out for the season with a torn ACL. The senior started at nickel back for the Tigers against Jacksonville State but was injured early in the game.
— South Carolina quarterback Connor Mitch has been released from the hospital after receiving treatment for an internal infection. The Gamecocks face seventh-ranked Georgia Saturday night.
AUSTIN, Texas (AP) — The University of Texas will have a new athletic director.
UT President Greg Fenves has confirmed that Steve Patterson is out after 22 months as AD, calling it a "mutual decision." Patterson has left after less than two years on the job.
Patterson hired football coach Charlie Strong and men's basketball coach Shaka  Smart, but he also raised ticket prices after Strong guided the Longhorns to a losing season in his first year. The ouster comes as Texas is seeking a lucrative new apparel contract once its current deal with Nike expires in 2016.
COLLEGE BASKETBALL-SAN DIEGO STATE
Aztecs under NCAA investigation
SAN DIEGO (AP) — CBS Sports is reporting that San Diego State's basketball program is under investigation by the NCAA for potential rules violations that include possible improper benefits to recruits. Head coach Steve Fisher was hired by SDSU in 1999, two years after he was fired by Michigan because of the program's involvement with booster Ed Martin. Fisher has turned the once-moribund Aztecs into a perennial Top 25 and NCAA tournament team.
Veteran Gagne calls it quits
UNDATED (AP) — Longtime NHL left wing Simon Gagne has retired after a 14-year career. He was a four-time All-Star who scored 291 goals and had 310 assists for 601 points. He played 11 seasons with the Flyers, won a Stanley Cup with the Kings in 2012 and also played for Tampa Bay and Boston.
The 35-year-old Gagne had seven 20-goal seasons, including two with 40-plus goals.