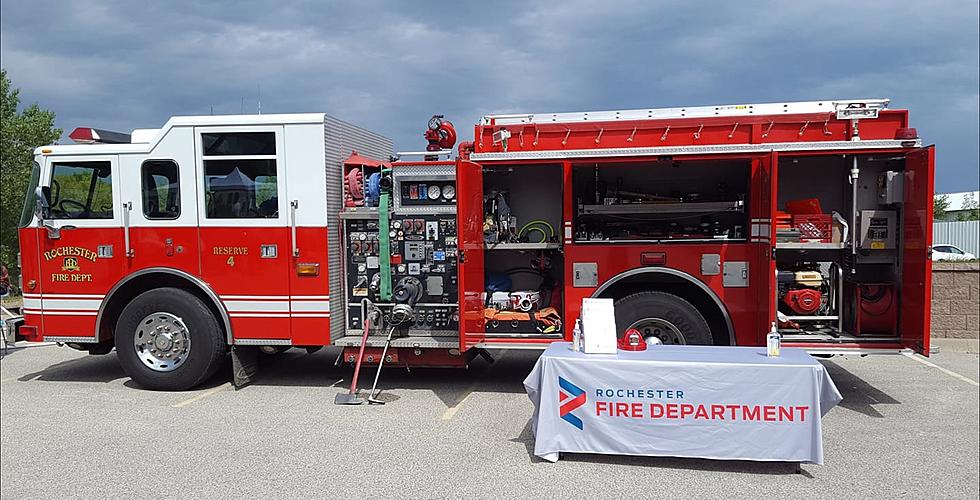 Fire Prevention Open Houses Back This Week at Rochester Fire Department
Rochester Fire Department/Facebook
They may have taken a break during the pandemic in 2020, but the Rochester Fire Department is once again hosting open houses this week during Fire Prevention Week.
When I was a kid, I vividly remember firefighters from our local department (shout-out to the Riverside Fire Department back in Rothschild, WI btw) visiting my class in school during Fire Prevention Week. Seeing those massive fire trucks and all the equipment firefighters use to put out fires and rescue those who need help was pretty cool.
And, truth be told, I still think that. And if you have kids (or you) that think the same, you'll want to visit any of the five Rochester Fire Department (RFD) fire stations this week during Fire Prevention Week. According to a post on the RFD's Facebook page, all five are hosting various Monday through Wednesday of this week.
RFD says the open houses are scheduled from 6 to 8 pm on Monday, Tuesday and Wednesday, October 4th, 5th and 6th at all five fire stations in Rochester. You and the family can drop by to check out the trucks and meet the firefighters.
According to the National Fire Protection Association (NFPA), Fire Prevention Week has been held every fall during the first week of October 9th since 1922, when President Calvin Coolidge proclaimed it a national observance. It's observed as a commemoration of the Great Chicago Fire, which began on October 8, 1871, and caused devastating damage.
You can get more information on how to teach your kids about fire safety from the NFPA HERE. And, if you're looking for more things to do with the family this fall, there are a lot of cool attractions all over the Land of 10,000 Lakes. Keep scrolling to see how many of these 30 Minnesota attractions you've been to!
Listen to Curt St. John in the Morning
weekdays from 6 to 10 a.m. on Quick Country 96.5
How Many of These 30 Popular Minnesota Attractions Have You Visited?
#BraggingRights Minnesota has lots of great attractions for every kind of person. But how many of Minnesota's top attractions have you been to? I'll count mine too along the way!