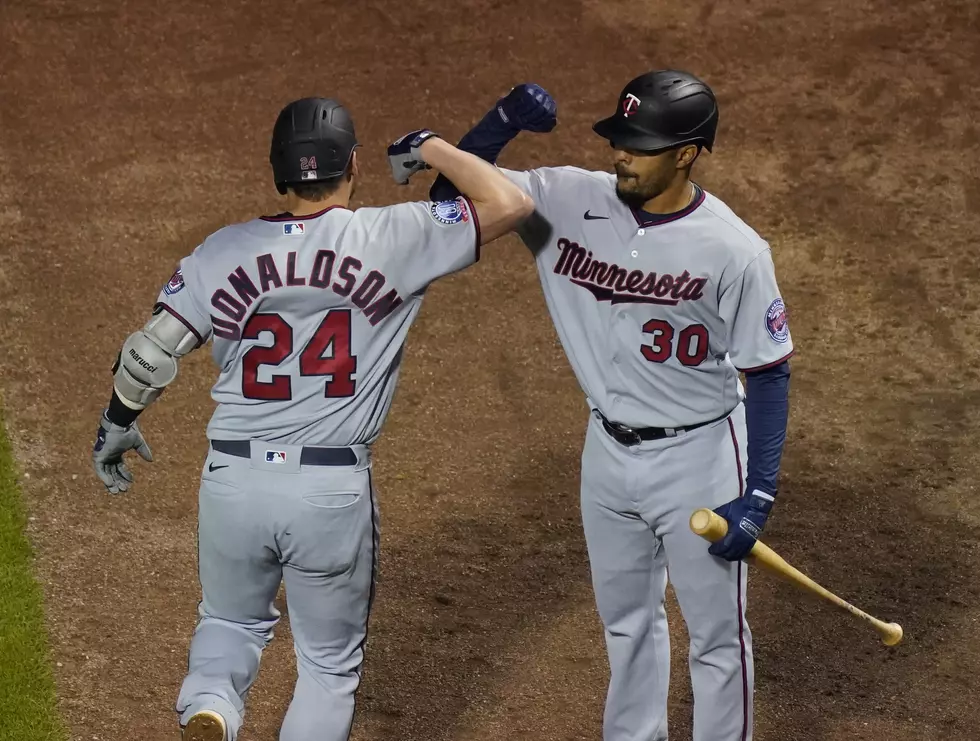 Twins Win Against Cubs Clinches Play-Off Appearance
Getty Images
Enter your number to get our free mobile app
CHICAGO -- Eddie Rosario, Miguel Sanó and Josh Donaldson homered as the Minnesota Twins clinched a second straight postseason berth with an 8-1 victory over the Chicago Cubs on Saturday night.
The Twins are guaranteed at least a wild-card berth. They trail the Chicago White Sox by three games in the AL Central with six games to play. The White Sox have eight games remaining.
"It's special in there," Twins manager Rocco Baldelli said. "You only get so many opportunities to earn something like that, to celebrate it. We're going to celebrate every time we have the opportunity. The guys are ready. They're just ready to see what comes next.
"We're going to take tonight and have some fun, and get ready to go going forward."
Coming off a no-hitter on Sunday against Milwaukee, Cubs starter Alec Mills (5-4) wasn't nearly as sharp in this one, allowing four runs and six hits in six-plus innings. He struck out seven and walked one as Chicago's five-game winning streak ended.
"Baseball's funny; I actually think my stuff today was better than it was last time," Mills said. "I know that may sound crazy. I made a couple of mistakes and the Twins took advantage."
Rosario and Mitch Garver had a two-run pinch-hit single as Minnesota rebounded after dropping four of five on the current road trip against both Chicago teams.
The Twins, who won the division last year, will make back-to-back playoff appearances for the first time since 2009-10.
Minnesota starter Michael Pineda (2-0) permitted one run on four hits in five innings.
After Mills struck out the first two batters of the game, Rosario homered on the first pitch he saw for a 1-0 lead. The Cubs tied it in the second on a RBI double by David Bote.