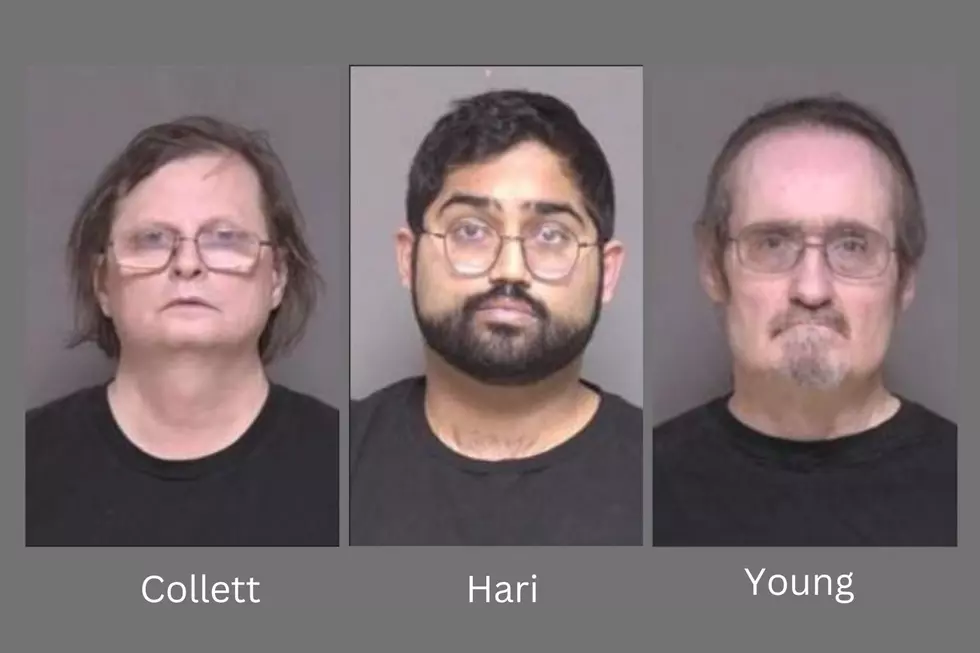 3 Rochester Men Arrested and Charged With Child Porn Possession
Olmsted County ADC photos
Rochester, MN (KROC-AM News) - Rochester Police today reported the arrests of three men on charges stemming from separate child pornography investigations.
60-year-old Morgan Young, 26-year-old Rithvik Hari, and 58-year-old Scott Collett were all taken into custody on Thursday after police executed search warrants at their residences. All three men have been charged with one count of possession of child pornography.
In Colett's case, Rochester police were tipped off by a Minneapolis Police Department investigator who was using a type of law enforcement software that can track downloads from peer-to-peer networks. The investigator discovered five suspicious files had been downloaded from to IP address in Rochester between August 20, 2021, and September 21, 2022. Those files depicted boys as young as 8 to 10 years old engaged in sexual activity. The IP address was traced to a residence in Rochester let was associated with Collett. According to the criminal complaint, Collette admitted to a Rochester police investigator that he had accessed obscene videos of prepubescent boys.
The criminal complaint against Hari describes a similar scenario with an investigator from the Minneapolis Police Department informing Rochester police about downloads on a peer-to-peer network involving dozens of files containing involving adults sexually abusing children between 8 and 14 years old between October 3, 2021, and December 9, 2022. The IP address associated with the downloads was linked to Hari, which led to his arrest.
The charges against the third defendant state that a tip received from the National Center for Missing and Exploited Children and the Minnesota Bureau of Criminal apprehension led to the arrest of Morgan Young. the criminal complaint says the tip involved a file of suspected child sexual abuse that was uploaded last December from a residence in Rochester. The court document also says a search of a computer in Young's home led to the discovery of "a plethora of image/video files containing child sexual abuse material." Rochester police investigators indicated the children depicted in the materials ranged from infants to around eight years old.
Court records show all three men are eligible for release from jail without bail, but with conditions. They are all due back in court for an initial appearance on February 21.
HAVE YOU SEEN ME? 32 Kids Missing From Minnesota
As of January 19, 2023, there are 32 children missing from across Minnesota that have still not been found, according to the
National Center for Missing and Exploited Children
. If you have seen any of them, or have any information on their whereabouts, please don't hesitate to call 911 or you can call the National Center at 1-800-843-5678 (1-800-THE-LOST).