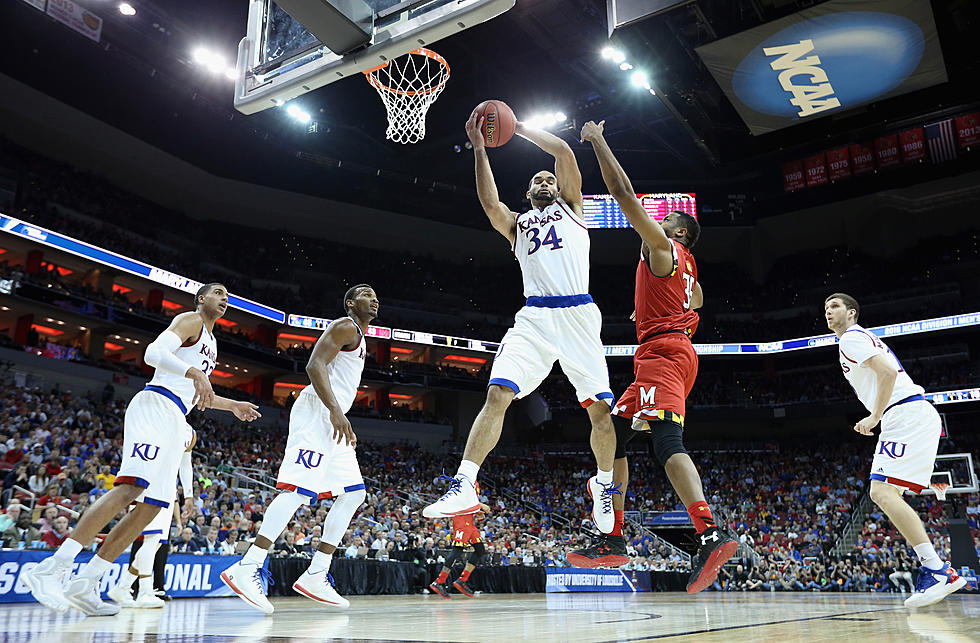 Photo: Andy Lyons/Getty Images
'Nova vs. Kansas and vs. Oregon vs. Oklahoma in Elite Eight
UNDATED (AP) — The top two seeds in both the South and West Regionals will be playing Saturday for a trip to the Final Four. Here's how they got there:
LOUISVILLE, Ky. (AP) — It's been 31 years since Villanova played its so-called "perfect game" against Georgetown to win the 1985 NCAA title. The Wildcats weren't perfect against Miami, but they were plenty good enough to reach the Elite Eight for the first time since 2009.
In South Regional play, second-seeded Villanova shot 63 percent from the floor and 18 of 19 from the free throw line in eliminating Miami 92-69. Ryan Arcidiacono and Kris Jenkins combined to make 9 of 13 from behind the arc to score 21 points apiece.
That sends the Wildcats to the Elite Eight and a Saturday game against Kansas for a shot at the Final Four. Top overall seed Kansas defeated Maryland 79-63 to reach the South Regional final behind Perry Ellis's 27 points. Wayne Selden Jr. added 19 in the Jayhawks' 17th straight victory.
ANAHEIM, Calif. (AP) — At the West Regional, second-seeded Oklahoma placed five players in double figures in the Sooners' 77-63 win over Texas A&M. Jordan Woodard scored 22 points and Buddy Hield had 17 points and 10 rebounds to lead the Sooners, who now play Oregon in Saturday's West regional final.
Top seed Oregon eliminated fourth seed Duke 82-68. Dillon Brooks led the Ducks' scoring parade with 22 and added five rebounds and six assists. Fellow forward Elgin Cook added 16 points in help Oregon to the Elite Eight for the first time since 2007.
Nets stun Cavs...Pacers win but lose George...Clippers win on buzzer-beater
UNDATED (AP) — Brook Lopez scored 22 points and the Brooklyn Nets blew by LeBron James and the Cleveland Cavaliers in the fourth quarter, 104-95.
James was scoreless and missed both shots in the fourth quarter after he scored 30 points on 13-for-14 shooting through three. Lopez had the final five points in a 14-0 run down the stretch as the Nets surged past the Eastern Conference leaders. Cleveland leads Toronto by two games in the race for best record in the East.
— Myles Turner scored 24 points and had a career-high 16 rebounds on his 20th birthday, and C.J. Miles added 19 points in the Indiana Pacers' 92-84 victory over the New Orleans Pelicans. The Pacers have won two straight but lost Paul George in the third quarter with a bruised right leg.
— J.J. Redick canned a 21-foot buzzer-beater to lift the Los Angeles Clippers to a 96-94 victory over the Portland Trail Blazers. Chris Paul and Jamal Crawford each scored 25 points for the Clippers.
— Kevin Durant had 20 points, nine assists and eight rebounds to help the Oklahoma Thunder beat the Utah Jazz 113-91 for their sixth straight victory.
— Carmelo Anthony scored 26 points, rookie center Kristaps Porzingis had 19 and the New York Knicks beat the Chicago Bulls 106-94 to sweep the home-and-home series.
Wedgewood gets first shutout
UNDATED (AP) — Kyle Palmieri scored twice in the first period and Scott Wedgewood stopped 39 shots for his first career shutout as the New Jersey Devils beat the Pittsburgh Penguins 3-0. The Devils have won five of seven.
— Zach Parise scored his third hat trick of the season and added an assist as the Minnesota Wild beat the Calgary Flames 6-2.
— The Anaheim Ducks clinched a playoff spot for the fourth straight season in their 6-5 overtime loss to the Toronto Maple Leafs.
— Dustin Byfuglien and Paul Postma scored less than three minutes apart early in the third period to help the Winnipeg Jets top the Los Angeles Kings 4-1.
— Philadelphia doubled up Colorado 4-2. Radko Gudas and Claude Giroux (zheh-ROO') scored 19 seconds apart late in the third period. Steve Mason made 32 saves for Philly.
— Craig Smith had the decisive goal in the shootout after the Nashville Predators scored twice to tie in the third period in a 3-2 victory over Vancouver.
— Elias Lindholm, Victor Rask and Chris Terry each scored goals within 1:38 of each other in the third period and the Carolina Hurricanes beat the Columbus Blue Jackets 3-2. Eddie Lack made 43 saves for the 'Canes.
— Florida spanked Boston 4-1 on the Bruins home ice. Roberto Luongo made 34 saves, and Jussi Jokinen and Vincent Trocheck each scored a goal and added an assist.
— Patrick Maroon scored the go-ahead goal and assisted on another in Edmonton's four-goal second period that carried the Oilers to a 6-3 victory over San Jose.
— Martin Hanzal scored his 100th career goal in the second period and added his first short-handed goal in more than seven years in the Arizona Coyotes' 3-1 victory over Dallas.
— Detroit built a 4-0 lead after two periods and held off Montreal 4-3. Riley Sheahan scored a career-high two goals for the Red Wings.
NHL-BLUE JACKETS-BOLL SUSPENDED
Blue Jackets Boll suspended
NEW YORK (AP) — Columbus forward Jared Boll has been suspended for four games without pay by the NHL a blind-side hit on Philadelphia forward Pierre-Edouard Bellemare.
Boll was assessed a major penalty for interference and a game misconduct in Columbus's shootout victory Tuesday. He's considered a repeat offender under the terms of the Collective Bargaining Agreement.
The suspension will cost Boll $82,927.
CLEVELAND (AP) — Robert Griffin III has signed a two-year, $15.75 million contract with the Cleveland Browns.
The former Heisman Trophy winner was released by Washington March 7 after four seasons. His star fizzled quickly after a standout rookie season. RG III didn't play a single snap last season after being dropped to third string.
He joins a Browns team that recently parted ways with the troublesome Johnny Manziel, who like Griffin, arrived amid much fanfare, but wore out his welcome.
Griffin has been given no promises by the Browns, who own the number two overall pick in the draft and are expected to select a quarterback.
A-Rod may extend career...D-Backs complaining about Chase Field
UNDATED (AP) — A day after saying the 2017 season will be his last, Alex Rodriguez says he could change his mind.
The Yankees slugger says his current intention is to quit after the 2017 season
The 40-year old is fourth on the career home-run list with 687. A-Rod is 75 homers short of Barry Bonds' all-time record and would likely need to play into 2018 to challenge it.
— The Arizona Diamondbacks are threatening to sue Maricopa County and leave downtown Phoenix unless their ballpark is upgraded. In a letter to county officials, the Diamondbacks say the county has failed to make $187 million in repairs to the ballpark that opened in 1998 when Arizona joined the National League as an expansion franchise.
— Right-hander Jon Gray won't be ready for the start of Colorado's season due to an abdominal strain. He says he's been told he won't be able to pitch in a game for at least a couple of weeks.
CHARLOTTE, N.C. (AP) — Danica Patrick has been fined $20,000 by NASCAR for walking near the race track after a crash and Kyle Busch has been fined $10,000 for failing to meet media obligations at California.
Patrick has also been placed on probation for four races. Busch has also been placed on probation through April 27.
AUSTIN, Texas (AP) — Jordan Spieth had another stress-free day in the Dell Match Play with a 5-and-4 win over France's Victor Dubuisson. With two victories, Spieth only needs a half point against Justin Thomas in today's third round to advance to the round of 16.
Phil Mickelson was all square on the last hole when Daniel Berger hit a rock wall before his club reached the ball. He grabbed his wrist and conceded the match giving Mickelson a 2-0 record. Ryan Moore birdied his last two holes to beat Sergio Garcia.
RIO GRANDE, Puerto Rico (AP) — Native son Rafael Campos has the lead after the opening round of the Puerto Rico Open. The VCU grad posted a bogey-free 8-under 64 to hold a one shot lead over George McNeil.
The field includes John Daly in his first start tournament since the PGA Championship last August. He opened with a 1-over-73.
CARLSBAD, Calif. (AP) — Inbee Park shot a 5-under 67 for a share of the lead in the Kia Classic, the final event before the major ANA Inspiration next week in Rancho Mirage.
Morning starters Brittany Lang, Jodi Ewart Shadoff and Ai Miyazato (EYE mee-yah-ZAH'-toh) matched Park at 67. Top-ranked Lydia Ko was another stroke back along with Jane Park and Mi Jung Hur.
Cruyff dies after cancer battle
UNDATED (AP) — Dutch soccer star Johan Cruyff has died after a five-month battle with cancer. He was 68.
Ranked alongside such global stars as Pele, Diego Maradona, Franz Beckenbauer and Lionel Messi, Cruyff was one of the best footballers of all time.
He starred for Barcelona, and played 48 times for the Netherlands, scoring 33 goals.