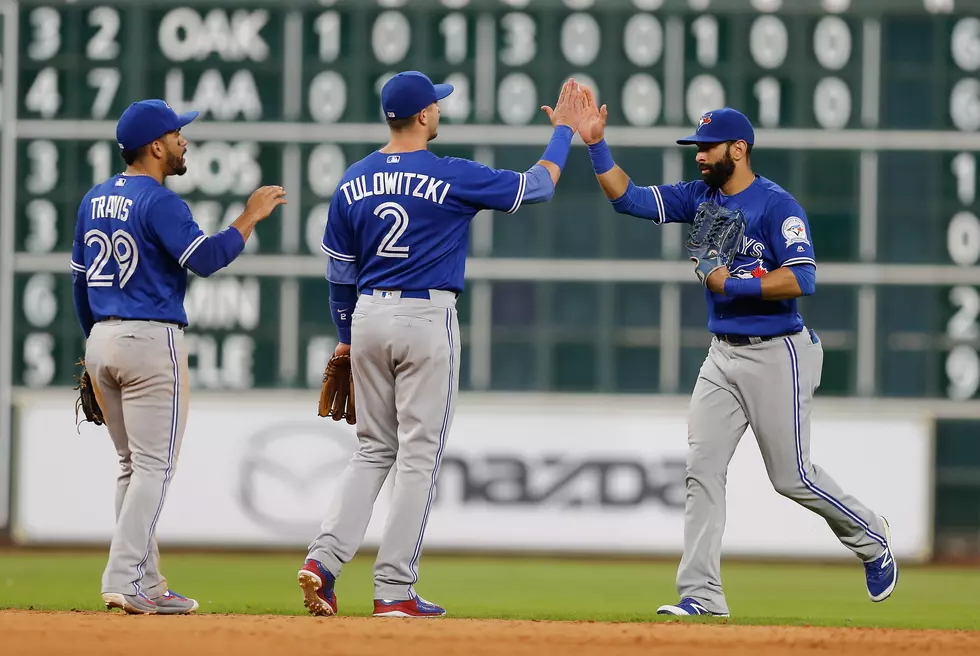 Getty Images
UNDATED (AP) — There's now a two-way tie for first in the American League East following the Toronto Blue Jays' eighth victory in their last 11 games.
J.A. Happ won his ninth consecutive decision and the Jays pulled even with Baltimore by downing Houston 4-1. Happ is 15-3 after limiting the Astros to a run and four hits in six innings. He is 9-0 with a 2.49 ERA in 10 starts since losing at Detroit on June 6.
Edwin Encarnacion (ehn-kahr-nah-see-OHN') capped the scoring by reaching 30 home runs for the fifth straight season.
Houston pitchers struck out a major league-record 61 in the four-game series, three more than the previous mark set by Cincinnati against San Diego in 2008. However, the Astros dropped the last three games of the series to fall 6 ½ games behind the AL West-leading Rangers.
Jonathan Lucroy (LOO'-kroy) hit his first Texas Rangers homer and Ian Desmond had two RBIs in a 5-3 win at Baltimore. Shin-Soo Choo came off the disabled list to get two hits and score a run as the Rangers avoided a three-game sweep.
Mark Trumbo, Pedro Alvarez and Hyun-Soo Kim went deep for the Orioles.
— Boston is within two games of first place in the AL East after Brock Holt provided a couple of big hits in the Red Sox's 3-2, 11-inning win at Seattle. Holt opened the scoring with a solo homer and snapped a 2-2 tie with an RBI single in the 11th. Bosox starter Drew Pomeranz left the game in a 2-2 tie after allowing two runs, four hits and six walks in six innings.
— The AL Central-leading Indians banged out four home runs and received 4 2/3 hitless innings from their bullpen in a 9-2 pounding of Minnesota. Carlos Santana belted a three-run shot in the third to put Cleveland ahead 4-0. Jason Kipnis, Francisco Lindor (lihn-DOHR') and Jose Ramirez also went deep to help the Indians stretch their division lead to three games over Detroit.
— The Tigers ended an eight-game winning streak with a 6-3 loss to Chicago. Avisail (AV'-ih-sayl) Garcia and Jose Abreu (ah-BRAY'-oo) homered while the White Sox scored five times in the second to take a 6-1 lead. Tigers starter Jordan Zimmermann was rocked in his first start since returning from a neck strain, yielding six runs and six hits in 1 2/3 innings.
— Denard (deh-NAHRD') Span led off the 10th inning with a homer to send San Francisco past Philadelphia 3-2, giving the Giants a two-game lead in the NL West. Span was 3-for-4 with two RBIs in leading the Giants to just their fifth victory in 14 games since the All-Star break. Matt Moore was a bit wild in his first start for the Giants, yielding six walks but just two runs and three hits over six innings.
— The Dodgers kept pace with the Giants as Kenta Maeda (mah-EH'-dah) combined with three relievers on a five-hitter in a 4-2 win at Colorado. Corey Seager tied a Dodgers record for shortstops with his 19th home run. Yasmani Grandal (yahs-MAH'-nee grahn-DAHL') added a two-run triple to help Los Angeles avoid a three-game sweep.
— The Chicago Cubs' lead in the NL Central increased to 9 ½ games when the second-place Cardinals were hammered 7-0 in Cincinnati. Winning pitcher Ryan Finnegan held St. Louis to two hits while walking none over six innings. Ramon Cabrera singled twice and had three RBIs as the Reds dealt the Redbirds their fourth loss in five games.
— Jay Bruce had been 0-for-10 since joining the Mets before launching a three-run homer in the fifth inning of a 4-1 triumph against the Yankees. Bruce's 26th homer gave him the NL RBI lead with 83 and ended an 0-for-19 skid that began when he was with the Reds. Bartolo Colon (bahr-TOH'-loh kuh-LOHN') gave up a run and six hits over 6 2/3 innings to help the Mets gain a four-game split of the Subway Series.
— Adonis Garcia lined an RBI double and scored from second on a stolen base attempt in Atlanta's 5-2 verdict over Pittsburgh. Garcia went to steal third and caught reliever Felipe Rivero napping before Jung Ho Kang (gahng) dropped the pitcher's throw to the bag for an error, allowing Garcia to come home. Ender Inciarte (EHN'-dur ihn-see-AHR'-tay) went 2-for-4 to stretch his hitting streak to 15 games, the longest by a Brave this season.
— Yonder Alonso doubled home the tiebreaking run in the 10th inning as Oakland outscored the Angels 8-6. Max Muncy, Ryon Healy and Danny Valencia homered for the A's.
— Brad Miller crushed a three-run homer off Joakim Soria (SOHR'-ee-uh) in the eighth inning to turn Tampa Bay's 2-0 deficit into a 3-2 triumph against Kansas City. The Rays rallied after Ian Kennedy held them to one hit while striking out nine in six scoreless innings.
NEW YORK (AP) — Mets slugger Yoenis Cespedes (yoh-EHN'-ehs SEHS'-peh-dehs) has been put on the 15-day disabled list because of a sore right quadriceps that has bothered him since July 8. Mets manager Terry Collins has teed off on those wondering whether the outfielder aggravated his injury playing golf.
The team recalled outfielder Brandon Nimmo from Triple-A Las Vegas to replace Cespedes, who is hitting .292 with 22 homers and 59 RBIs this season.
— Luis Severino is back in the Yankees' rotation and will start Tuesday at Boston. Severino spent two months in the minors after opening the season 0-6 with a 7.46 ERA in seven starts. He has allowed an unearned run and just one hit in 8 1/3 innings over three relief appearances since his recall last week.
Westbrook gets new contract
UNDATED (AP) — The Oklahoma City Thunder have retained half of their dynamic duo.
A person with direct knowledge of the deal says Russell Westbrook and the Thunder have agreed to a three-year, $85.7 million contract extension that runs through 2020-21. The five-time All-Star averaged 23.5 points, 7.8 rebounds and 10.4 assists last season as Oklahoma City reached the Western Conference finals before blowing a three-games-to-one lead against Golden State. Westbrook also piled up 18 triple-doubles last season, tying Magic Johnson for the most in the last 30 years.
The signing comes one month after All-Star Kevin Durant left the Thunder for a free-agent contract with the Warriors. The Thunder made it a top priority to keep Westbrook.
OLYMPICS-USA GYMNASTICS ABUSE
Report: USA Gymnastics failed to act on abuse complaints
UNDATED (AP) — An investigation into USA Gymnastics finds the organization collected complaints of improper conduct by more than 50 coaches over 10 years and regularly declined to forward them to the authorities unless asked. That opened the door for further abuse in some cases.
The Indianapolis Star found four separates instances when USA Gymnastics didn't take action about potential misconduct by a coach, with each of the four coaches later being charged or convicted of abuse.
The report's release comes as the U.S. women's team heads to Rio as the heavy favorites to defend the gold medal.
IOC OK's 271 Russian athletes
RIO DE JANEIRO (AP) — The IOC has approved the entry of 271 Russian athletes for the Rio Olympics. Russia's number of entries was originally 389 before the IOC asked international sports federations to decide which Russian athletes should be cleared to compete after a review of their doping records.
The final decision on entries was up to a three-member IOC panel, which received advice from an independent sports arbitrator. The IOC asked international sports federations to decide which Russian athletes should be cleared to compete after a review of their doping records. That followed an investigation for the World Anti-Doping Agency that detailed state-sponsored cheating in Russia.
Earlier in the day, the International Boxing Association has cleared all 11 of Russia's boxers who qualified for the Rio Games to compete after a doping review. The International Judo Federation has cleared all 11 Russian judo athletes to compete as well.
NFL-VIKINGS-PETERSON LAWSUIT
Appeals court upholds Peterson suspension
MINNEAPOLIS (AP) — A federal appeals court has ruled that the NFL was within its rights when it suspended Minnesota Vikings star Adrian Peterson in 2014 after he was charged with child abuse.
The three-judge panel wrote that the players' union and the league both agreed to be bound by the arbitrator's decision and that Commissioner Roger Goodell had acted within his authority. U.S. District Judge David Doty tossed out an arbitrator's ruling last year, saying the arbitrator overreached his authority.
Peterson was suspended under the league's personal conduct policy following a charge of child abuse after he disciplined his son with a wooden switch. He wound up playing only one game that season.
GOLF-TRAVELERS CHAMPIONSHIP
CROMWELL, Conn. (AP) — Jerry Kelly fired a 6-under 64 for a share of the first-round lead with Vaughn Taylor and Andrew Loupe at the Travelers Championship near Hartford.
Kelly started his round on the back nine, sinking a 45-foot putt for eagle on his sixth hole of the day.
Taylor strung together five consecutive birdies starting on the 12th hole and shot a 30 on the back nine. Loupe had seven birdies and a bogey as he seeks his first PGA victory.
Jon Rahm, Ben Martin and Marc Leishman are one stroke back.