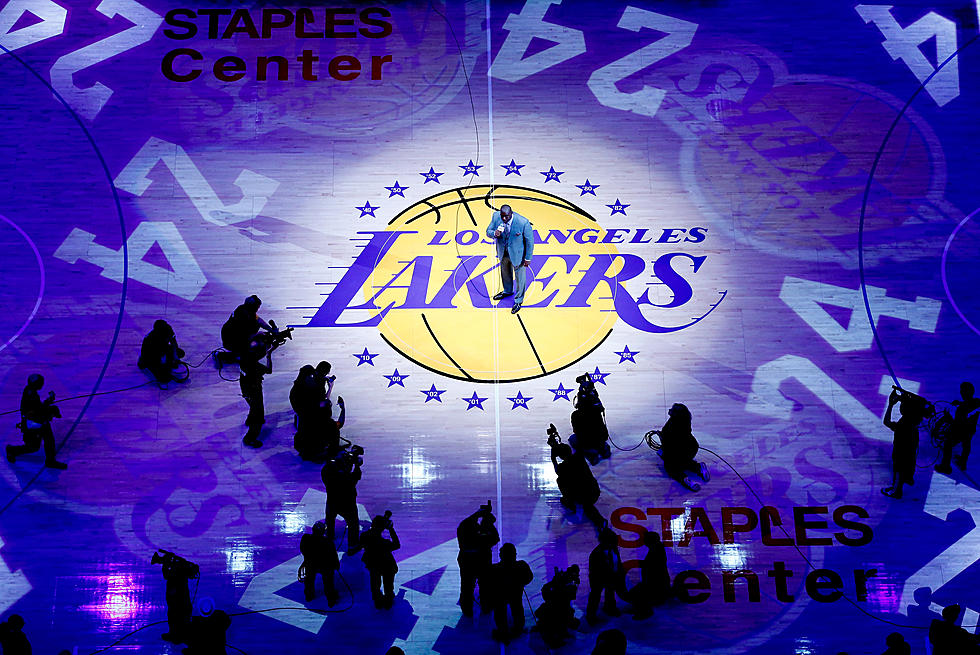 AP Thursday Sports Roundup
Getty Images
Warriors get record...Kobe scores 60 in farewell
UNDATED (AP) — It was a record-setting win for the Golden State Warriors and a triumphant farewell for Kobe Bryant on the final night of the NBA's regular season.
Stephen Curry poured in 46 points and the Warriors earned their league-record 73rd victory by thumping Memphis 125-104. Golden State's 73-9 mark tops the previous best of 72-10 set by the Chicago Bulls in 1995-96.
Curry drained 10 more 3-pointers to finish the season with 402, 116 more than the previous league record he established a year ago.
Klay Thompson finished with 16 points and Harrison Barnes added 15 for the Warriors, who topped the NBA victory record by winning their last four games.
Meanwhile, Bryant went out in style by torching Utah for a season-high 60 points in the Los Angeles Lakers' 101-96 win over the Jazz. He delivered 23 points in the fourth quarter, including 13 straight in just over two minutes after Utah took a 96-86 lead.
It was the last game of Bryant's 20-year career. He finishes with 33,643 regular-season points, third-most in league history.
In other NBA regular-season finales:
— Houston nailed down the eighth seed in the West with a 116-81 pounding of Sacramento. James Harden scored 38 points for the Rockets, who nosed out Utah for the final conference playoff spot by winning their last three games.
— San Antonio earned a 96-91 victory at Dallas despite sitting four starters and two key reserves. Rookies Boban Marjanovic had a career-high 22 points and matched a personal best with 12 rebounds, while Jonathon Simmons scored a career-best 19 points to help the Spurs finish with a team-record 67 wins.
— Jodie Meeks scored 20 points and Detroit won a preview of its first-round series by downing Cleveland 112-110 in overtime. Jordan McRae poured in 36 points for the top-seeded Cavaliers, including a 3-pointer that forced overtime.
— Isaiah Thomas had 21 points and Boston rallied from 26 points down to beat Miami 98-88. Avery Bradley added 17 points and seven rebounds to help the Celtics nail down the fifth seed in the East.
— The Heat wound up winning the Southeast Division title and grabbing the third seed in the East when Atlanta fell 109-98 at Washington. Ramon Sessions was high man for the Wizards with 22 points.
— Rookie Norman Powell scored a career-high 30 points and Toronto concluded the best regular season in franchise history by beating Brooklyn 103-96. The Atlantic Division champs ended up 56-26 after coming into the season as the only NBA team without a 50-win campaign.
— The Suns were 114-105 winners over the Los Angeles Clippers as Mirza Teletovic scored 22 points to lead seven Phoenix players in double figures. The Clippers ended a six-game winning streak and played without Chris Paul, DeAndre Jordan, Blake Griffin and Jamal Crawford after wrapping up home-court advantage in the first round of the playoffs.
— Damian Lillard had 21 points before sitting in the final quarter of Portland's 107-99 decision over Denver. CJ McCollum added 17 points for the Blazers, who led by as many as 18 in the final quarter.
— Nikola Mirotic hit seven 3-pointers and scored 32 points to lead Chicago's 115-105 victory over Philadelphia. Justin Holliday added a career-high 29 points against the 76ers, who blew an early 24-point lead and finished 10-72.
— Al Jefferson scored 26 points and Charlotte closed out its best regular season in 16 years with a 117-103 win over Orlando. Troy Daniels added 13 points as the Hornets finished the campaign 48-34.
— Indiana was a 97-92 winner at Milwaukee as Solomon Hill scored a season-high 25 points. Lavoy Allen and Glenn Robinson III each added 14 points for the Pacers, who led by as many as 24 and won despite resting four starters.
— Karl-Anthony Towns had 28 points and 14 rebounds as Minnesota crushed New Orleans 144-109 in Sam Mitchell's final game as the Timberwolves' head coach.
Wittman gone as Wizards coach
WASHINGTON (AP) — A person familiar with the decision tells The Associated Press that Washington Wizards head coach Randy Wittman has been told he will not be back next season.
Washington finished 41-41 and 10th in the Eastern Conference to miss the playoffs after reaching the second round each of the previous two years.
Wittman went 178-199 in 4 1/2 seasons with the team.
UNDATED (AP) — The St. Louis Blues have opened their Stanley Cup playoff schedule by knocking off the defending champions.
David Backes scored at 9:04 of overtime to give the Blues a 1-0 victory over the Chicago Blackhawks in St. Louis. Backes' shot got past Corey Crawford after bouncing off the skate of Chicago forward Trevor Van Riemsdyk.
Brian Elliott was outstanding at times while the Blackhawks were outshooting the Blues 35-18, including a 7-2 mark in OT. It was Elliott's first playoff shutout.
In other series-opening games:
— Patric Hornqvist registered his first playoff hat trick and Sidney Crosby added a goal and two assists as the Penguins topped the New York Rangers 5-2 in Pittsburgh. Backup goaltender Jeff Zatkoff blanked the Blueshirts for the first two periods of his first postseason start and finished with 35 saves. The Rangers played the last two periods without Henrik Lundqvist, who suffered a facial injury after taking a stick to the face from teammate Marc Staal.
— Nikita Kucherov had two goals and Alex Killorn provided the tiebreaking tally with 11:08 remaining to push the Lightning past Detroit 3-2. Mike Green and Justin Abdelkader scored 1:53 apart to put the Red Wings ahead 2-1 4:07 into the second period. Kucherov tied it later in the middle period before assisting on Killorn's game-winner.
Wild's Parise is sidelined
UNDATED (AP) — Minnesota leading-scorer Zach Parise will miss at least the first two games of the playoffs and likely more because of an upper-body injury.
Parise hasn't been on the ice in eight days after scoring a team-high 25 goals in 70 games.
And the Toronto Maple Leafs have signed forward Nazem Kadri and defenseman Morgan Rielly to new six-year contracts, locking up two potential restricted free agents.
UNDATED (AP) — The Boston Red Sox have dealt the Baltimore Orioles their first loss of the season.
The Birds were 7-0 until Xander Bogaerts hit a two-run double and Jackie Bradley Jr. provided the go-ahead triple in Boston's 4-2 triumph over the Orioles. Joe Kelly worked five innings and blanked the Orioles after Chris Davis ripped a two-run homer in the third inning.
Baltimore's season-opening winning streak was their longest since the franchise left St. Louis after the 1953 season.
Meanwhile, the Atlanta Braves continued their longest season-opening losing streak since 1988.
The Braves remain the National League's only winless team, falling to 0-8 with a 3-0 shutout loss at Washington. Tanner Roark scattered four hits in seven impressive innings, one start after he was pinned with the Nationals' only loss.
The game was scoreless until Stephen Drew and Jayson Werth homered in the Nationals' three-run fourth.
Jonathan Papelbon has saves in five of the Nats' six victories after tossing a one-hit ninth.
— The Twins dropped to an American League-worst 0-8 as Carlos Rodon worked six innings and combined with four relievers on a four-hitter in the Chicago White Sox's 3-0 shutout at Minnesota. The game was scoreless until the White Sox went ahead on a double-play grounder in the sixth, one inning before Jerry Sands clubbed a two-run homer.
— Salvador Perez had three RBIs, including a tiebreaking, two-run homer in the eighth inning of Kansas City's 4-2 decision over Houston. The Astros fell to 3-6 despite Jose Altuve, who was 3-for-5 with a solo homer and two ribbies.
— St. Louis and Milwaukee were tied 4-4 until Domingo Santana smacked a two-run homer in the ninth inning to give the Brewers a 6-4 win over the Cardinals. Jonathan Lucroy had three hits, drove in a pair and scored twice for the Brew Crew.
— The Cubs crushed Cincinnati 9-2 as John Lackey gave up a pair of runs and six hits in 6 2/3 innings. Kris Bryant hit a solo homer and drove in two, while Jason Heyward added a two-run single.
— Nolan Arenado was the hitting star in Colorado's 10-6 win over San Francisco, going 4-for-5 with a pair of homers and seven RBIs. Arenado hit a two-run homer and added a three-run blast in the eighth after the Giants got within 7-6.
— Jarrod Saltalamacchia launched a grand slam and Ian Kinsler hit a solo shot as Detroit overpowered Pittsburgh 7-3. Shane Greene tossed five scoreless innings after yielding a pair of runs in the top of the first.
— The New York Mets' four-game skid is over after backup catcher Kevin Plawecki hit a two-run single in the seventh inning of a 2-1 triumph over Miami. Plawecki's hit came after relievers Hansel Robles and Jerry Blevins worked out of a no-out, bases-loaded situation to keep the game scoreless.
— Jerad Eickoff was terrific in Philadelphia's 2-1 win over San Diego, striking out nine while allowing four hits and no walks in seven innings. Maikel Franco homered and added an RBI double as the Phillies won for the fourth time in five games since an 0-4 start.
— Ryan Goins was 3-for-5 with two RBIs to lead Toronto's offense in a 7-2 win over the New York Yankees. The victory went to J.A. Happ, who held the Yankees to a run and seven hits in six innings.
— Carlos Carrasco gave up a run and four hits while fanning eight over eight innings of Cleveland's 4-1 win at Tampa Bay. Jason Kipnis homered for the Indians, who scored three times in the fourth on an RBI grounder, a sacrifice fly and a throwing error.
— Seattle pulled out a 4-2 thriller against Texas on pinch-hitter Dae-Ho Lee's two-out, two-run homer in the bottom of the 10th. Robinson Cano's solo homer put the Mariners ahead 2-1 in the fifth, but the Rangers tied it on Delino DeShields' round-tripper leading off the eighth.
— Matt Shoemaker gave up just one hit over six innings of the Angels' 5-1 victory at Oakland. Kole Calhoun hit a pair of RBI singles and scored a run before Albert Pujols capped the scoring with a two-run single in the ninth.
— Adrian Gonzalez socked a solo homer and Alex Wood gave up just five hits in seven innings of the Dodgers' 3-1 verdict over Arizona. Nick Ahmed homered for the Diamondbacks, but he also threw away a potential force play to allow Howie Kendrick to score the tiebreaking run.
Southpaw to have Tommy John surgery
ST. LOUIS (AP) — Cardinals left-hander Marco Gonzales will have season-ending Tommy John surgery. The 22-year-old Gonzales injured his elbow in spring training after being limited to one start for the Cardinals last season because of shoulder problems. He was drafted by the Cardinals in the first round of the 2013 draft and went 4-2 with a 4.15 ERA in 10 games for St. Louis the following season.
— The Red Sox hope Pablo Sandoval can get in better shape while he's on the disabled list due to a strained left shoulder. The third baseman lost his starting job late in spring training and is 0-for-6 with four strikeouts this season.
— Braves outfielder Hector Olivera has been placed on paid administrative leave by Major League Baseball after he was arrested and charged with assaulting a woman at a hotel outside Washington Wednesday morning. Police say officers were called to the Ritz-Carlton Hotel in Pentagon City, where a woman with visible bruises reported that Olivera had assaulted her.
COLLEGE BASKETBALL-NBA DRAFT
Utes lose Poeltl to the NBA
SALT LAKE CITY (AP) — Utah center Jakob Poeltl (YAH'-kuhb PUR'-tehl) is giving up his final two years of eligibility to enter the NBA draft, where he is projected to be a lottery pick.
Poeltl was named a second-team All-American and was the Pac-12 Player of the Year this season. He ranked second in the Pac-12 with 17.2 points per game, fourth with 9.1 rebounds per game and first with a 64.6 shooting percentage.
COLLEGE FOOTBALL-BAYLOR-SEXUAL ASSAULT
NFL prospect arrested on sexual assault charge
AUSTIN, Texas (AP) — Waco, Texas, police say NFL prospect and former Baylor football player Shawn Oakman has been arrested on a charge of sexually assaulting a woman at his Texas apartment earlier this month.
A woman told police that Oakman attacked her earlier this month after they met at a Waco nightclub. Oakman told investigating officers they had consensual sex.
Oakman was suspended for the 2015 season opener for an unspecified rules violation. He told the Houston Chronicle in January that he had matured and was ready for the NFL.
LOS ANGELES (AP) — Lynn Swann has been named Southern California's new athletic director.
The former Trojans star receiver will succeed Pat Haden on July 1.
Although Swann has no experience in high-level collegiate athletic administration, he is the third straight former USC football player to take the post.
TENNIS-MONTE CARLO MASTERS
Djokovic stunned in opener
MONACO (AP) — Top-ranked and defending champ Novak Djokovic is out of the Monte Carlo Masters, beaten in the second round by to 55th-ranked Jiri Vesely 6-4, 2-6, 6-4.
It's the first time in three years Djokovic has lost a second round match, and his first loss in a Masters-level event since August. Since then, he's won nine of 11 events, including two grand slams, four consecutive Masters titles, and the ATP Finals.