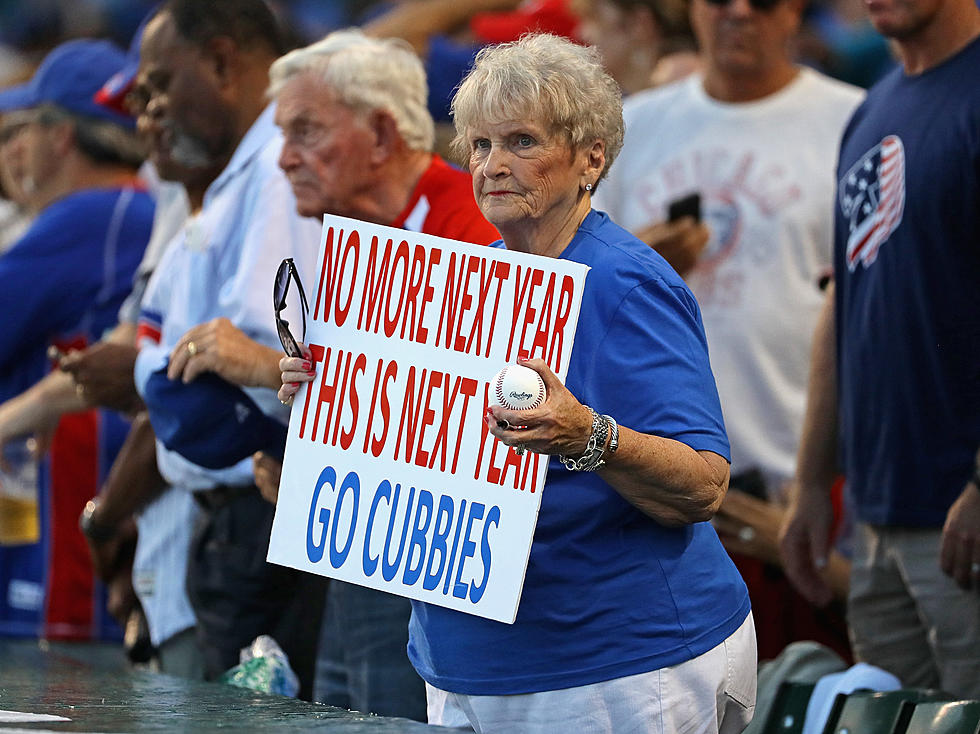 AP Wednesday Sports Roundup
Getty Images
UNDATED (AP) — On a team that boasts Jake Arrieta (ar-ee-EH'-tuh), Jon Lester and John Lackey, it is Kyle Hendricks who is emerging as the ace of the Chicago Cubs' pitching staff.
Hendricks lowered his major league-leading ERA to 2.09 by tossing three-hit ball over seven innings of the Cubs' 3-0 shutout of Pittsburgh. Anthony Rizzo put Chicago ahead to stay with a two-run homer in the bottom of the first, helping Hendricks improve to 13-7.
Hendricks has made seven starts in which he has allowed no earned runs while going at least five innings. He's become a big reason why the Cubs are a major league-best 84-47 and own a magic number of 18 for clinching the NL Central title.
— The Cardinals enjoy a 2 ½-game lead over the Mets and Pirates for the second NL wild-card berth after St. Louis earned a 2-1 triumph in 10 innings at Milwaukee. Zach Duke struck out Manny Pina with the bases loaded to end it, a half-inning after Randal Grichuk (GRIH'-chuhk) singled home the tiebreaking run. Jedd Gyorko (JUR'-koh) continued his recent power surge by homering for the ninth time in his last 16 games.
— Max Scherzer carried a one-hit shutout into the seventh inning and bunted home the Nationals' third run in a 3-2 victory at Philadelphia. Ryan Howard ended the shutout bid with a two-run homer before the Phillies were no-hit the rest of the way. Scherzer struck out 11 over eight innings as the NL East leaders won for the fourth time in six games to maintain their nine-game lead over the Mets.
— The Mets were 7-4 winners against the Marlins behind a pair of homers by Curtis Granderson. Asdrubal (as-DROO'-bul) Cabrera also went deep, and Granderson drove in three runs after entering as a pinch-hitter. Jose Reyes was 4-for-5 and Seth Lugo allowed two runs over six innings to help the Mets win for the eighth time in 10 games.
— Arizona's 4-3 win at San Francisco pushes the Giants two games behind the NL West-leading Dodgers, who were rained out in Colorado and will play a split doubleheader today. Chris Owings lined an RBI triple and Welington Castro added a two-run single while the Diamondbacks scored four times off Johnny Cueto (KWAY'-toh) in the fifth inning. Zack Greinke (GREHN'-kee) gave up just one earned run over six innings as the Diamondbacks dropped the Giants to a major league-worst 14-26 since the All-Star break.
— Baltimore pulled out a 5-3 win over Toronto on Matt Wieters' (WEE'-turz) tiebreaking, two-run homer in the bottom of the eighth. Steve Pearce and Manny Machado also homered for the Orioles, who are back within three games of the AL East-leading Blue Jays. The O's had dropped four of their previous five before retaining the AL's No. 2 wild-card berth.
— The Jays still lead their division by two games after the second-place Red Sox squandered a 3-1 lead in a 4-3 loss to Tampa Bay. The Rays tied it on Luke Maile's two-run blast in the seventh, one inning before Evan Longoria homered. Hanley Ramirez was 3-for-4 with a solo homer and two RBIs for Boston.
— Rajai (RAH'-zhay) Davis was 3-for-5 with a three-run homer to lead Cleveland past Minnesota 5-4. Neither team scored after Francisco Lindor (lihn-DOHR') laced a tiebreaking, RBI double in the fourth. Jason Kipnis also homered for the Indians, who got 7 1/3 scoreless innings from their bullpen to keep their 4 ½-game lead over Detroit in the AL Central.
— Ian Kinsler belted a two-run homer and drove in four to highlight the Tigers' 8-4 dismantling of the White Sox. J.D. Martinez went 3-for-3 with a solo shot to help Detroit claw back from an early 3-0 deficit. Jacoby Jones had two hits and two RBIs in his major league debut to help the Tigers remain one game behind Baltimore in the battle for the second AL wild-card slot.
— Rougned Odor (ROOG'-nehd oh-DOOR') launched a two-run, walk-off homer with two out in the bottom of the ninth to lift Texas past Seattle 8-7. Odor's third hit of the night and 25th home run of the season allowed the AL West leaders to keep their 8 ½-game lead over the Astros. Adrian Beltre (BEHL'-tray) was productive at the plate, going 3-for-5 with a two-run homer, three ribbies and three runs scored in the Rangers' fourth consecutive win.
— Collin McHugh scattered four hits over six scoreless innings as Houston downed Oakland 3-1 to stay two games out of an AL playoff berth. Colby Rasmus and Evan Gattis (GAT'-ihs) smacked solo homers in the Astros' ninth win in 11 games. Rasmus crushed a second-inning blast in his first at-bat since returning from the 15-day disabled list.
— The Yankees knocked off the red-hot Royals 5-4 on Jacoby Ellsbury's RBI single in the 10th inning. Chasen Shreve picked up the save by working out of a one-out, bases-loaded jam. The Yanks remain 3 ½ games out of an AL playoff spot, while the Royals are three games back following their fifth loss in 23 games.
— Julio Teheran looked good in Atlanta's 7-3 win over San Diego, striking out eight and limiting the Padres to a pair of runs and six hits over seven innings. Teheran also doubled and scored for the Braves, who got three RBIs from Dansby Swanson.
— C.J. Cron (krohn) homered twice and had three RBIs as the Angels doubled up Cincinnati 4-2. Winning pitcher Jered Weaver was reached for eight hits but just two runs over 6 1/3 innings.
Kershaw throws simulated game
DENVER (AP) — Dodgers ace Clayton Kershaw took a big step toward a return by throwing two solid innings during a simulated game at Dodger Stadium.
The three-time NL Cy Young Award winner has been sidelined with a minor disk herniation in his lower back since late June. The Dodgers want to see how he's feeling Wednesday before deciding on his next step.
Kershaw was 11-2 and leading the majors with a 1.79 ERA when he was placed on the DL.
Indians to get Crisp from A's
CLEVELAND (AP) — Coco Crisp is coming back to Cleveland.
A person familiar with the deal says the Indians have reached agreement in principle to reacquire the veteran outfielder from the Athletics, pending approval by Major League Baseball. The trade would have to be official by Wednesday for the 36-year-old Crisp to be eligible for the postseason.
Crisp made his big league debut with the 2002 Indians and played for them through the 2005 season. He is batting .234 with 11 home runs and 47 RBIs in 102 games this year.
Bridgewater likely to miss season
UNDATED (AP) — Veteran quarterback Shaun Hill and rookie Joel Stave have just become very important members of the Minnesota Vikings.
Starting quarterback Teddy Bridgewater is expected to miss at least the upcoming season while recovering from a dislocated left knee and torn ACL suffered in a freak practice injury on Tuesday. The non-contact injury occurred when he tried to plant his left foot to throw a pass. The knee was placed in an air cast before he was taken to a nearby hospital.
The 36-year-old Hill has started just 34 games during his NFL career, eight since the end of the 2010 season. Stave just completed a four-year college career with Wisconsin, where he completed 59.5 percent of his passes for 7,635 yards, 48 touchdowns and 37 interceptions. Stave was signed as an undrafted free agent.
Also in Vikings camp, long-time center John Sullivan was among those released by the team Tuesday. Sullivan ranks fourth all-time among Vikings centers with 93 regular season starts.
— San Francisco coach Chip Kelly says Colin Kaepernick (KAP'-ur-nik) will play in the team's final exhibition game Thursday in San Diego after missing the first two preseason games with a tired shoulder. This will be Kaepernick's first game since he spoke publicly over his anthem protest, saying he won't stand during the Star Spangled Banner because of what he described as oppression of minorities in the United States.
— The Green Bay Packers have changed punters by claiming Jacob Schum off waivers from the Buccaneers and releasing veteran Tim Masthay. Schum averaged 41.9 yards per punt as a rookie for the Bucs last season, playing in all 16 games.
— A person familiar with the situation says offensive tackle Will Beatty has re-signed with the New York Giants. Beatty was drafted by Big Blue in 2009 and was released last winter after missing the 2015 season with a pectoral muscle injury.
— Bills rookie linebacker Shaq Lawson will miss at least the first six weeks of the regular season after being placed on the reserve/physically unable to perform list. The team's first-round pick this spring underwent shoulder surgery in May and only began working out on his own two weeks ago.
— Brandon Tate was among those cut by the Bengals after newcomers Alex Erickson and Tyler Boyd looked good in preseason. Tate returned 149 punts for 1,411 yards over five seasons with Cincinnati, both club records.
— Defensive end Dion Jordan has been placed on the reserve non-football injury list by the Dolphins, one month after undergoing minor knee surgery. Jordan is now ineligible for the first six games of the season.
— The Cowboys have placed quarterback Kellen Moore on season-ending injured reserve with a broken right ankle suffered early in training camp.
Serena cruises into Round 2
NEW YORK (AP) — Serena Williams was in top form as she opened her U.S. Open schedule and a bid for a record 23rd major title.
The top-seeded Williams had 12 aces and just one double-fault in a 6-3, 6-3 win over Ekaterina Makarova. The six-time U.S. Open champion showed little trouble from the sore right shoulder that has allowed her to play just four singles matches since Wimbledon.
Meanwhile, sixth seed Venus Williams made 63 unforced errors and needed 2 hours and 42 minutes to win her first-round match, knocking off Kateryna Kozlova of Ukraine 6-2, 5-7, 6-4.
Fourth seed Agnieszka Radwanska (ag-nee-EHSH'-kah rad-VAHN'-skah) breezed through a 6-1, 6-1 victory in the opening round, and fifth seed Simona Halep (HAH'-lehp) dropped just two games in her first-round match. No. 15 Timea Bacsinszky and No. 16 Sam Stosur also reached the second round, but Ana Ivanovic (ee-VAH'-noh-vihch) was ousted in straight sets.
Men's No. 2 Andy Murray didn't lose a set in his opening-round match, coasting to a 6-3, 6-2, 6-2 victory. First-round winners on the men's side also include third seed Stan Wawrinka (vah-VRIHN'-kah), sixth seed Kei Nishikori (kay nee-shee-KOHR'-ee), No. 8 David Thiem (teem), No. 11 David Ferrer and No. 16 Feliciano Lopez. Jared Donaldson of the U.S. pulled off the biggest upset on the men's side, a 4-6, 7-5, 6-4, 6-0 stunner against 12th seed David Goffin.
American Steve Johnson rallied from down two sets and a break to outlast Evgeny Donskoy 4-6, 1-6, 7-6 (2), 6-3, 6-3 in 3 hours, 13 minutes.
American Sam Querrey was dispatched in the first round.
RALEIGH, N.C. (AP) — Carolina Hurricanes general manager Ron Francis has signed a contract extension that runs through the 2018-19 season.
The Hockey Hall of Famer is beginning his 11th season in a management role with the Hurricanes and his third since taking over for Jim Rutherford as GM. His rebuilding efforts led to a 15 point improvement in the standings last season.
COLLEGE FOOTBALL-BAYLOR-ZAMORA
Zamora punished for dog beating
WACO, Texas (AP) — Baylor football player Ishmael Zamora has been suspended for the first three games of the season after a video surfaced of him beating his dog with a belt this summer.
The sophomore receiver has issued a statement apologizing for his actions, saying he was sorry that he took out his frustrations on his dog. Waco police charged Zamora with a misdemeanor in the animal abuse case.
UNDATED (AP) — European Ryder Cup captain Darren Clarke has chosen Lee Westwood, Martin Kaymer (KY'-mur) and Thomas Pieters to round out his squad for the upcoming event at Hazeltine (HAY'-zuhl-teen) Golf Club in Chaska, Minnesota.
Westwood and Kaymer were widely-expected captain's picks and will provide experience to a European team that features five Ryder Cup rookies among its automatic qualifiers.
U.S. captain Davis Love III will fill out his roster with his final selections over the next few weeks.
Swimmer reacts to Brazilian charge
NEW YORK (AP) — Ryan Lochte (LAHK'-tee) says he isn't sure if he will return to Brazil to face a charge of filing a false police report over a gas station encounter during the Olympics.
Appearing on ABC's "Good Morning America," the US swimmer said his legal team is dealing with the situation, adding "we're just trying to get this over with."
COLLEGE FOOTBALL-BAYLOR PLAYER-DOG BEATING
Baylor player suspended over dog beating
WACO, Texas (AP) — Baylor sophomore receiver Ishmael Zamora has been suspended for the first three games of the upcoming season after a video surfaced of him beating his dog with a belt this summer.
Zamora has apologized for his actions in a statement, saying he was sorry that he took out his frustrations on his dog.
Baylor acting coach Jim Grobe said the program does not condone that sort of behavior by anyone, and worked with university officials to hold Zamora accountable for his actions.
Tebow hits, runs, shows deficiencies
LOS ANGELES (AP) — Tim Tebow (TEE'-boh) displayed a powerful bat, quick legs and otherwise shaky skills in a workout today for dozens of major league scouts at Southern California's Dadeaux (DAY'-doh) Field.
The former University of Florida and NFL quarterback hit several long home runs and completed the 60-yard dash in about 6.7 seconds. However, the 29-year-old Tebow appeared hesitant in the outfield and was repeatedly fooled by off-speed pitches from former big leaguers David Aardsma (AHRDZ'-mah) and Chad Smith.