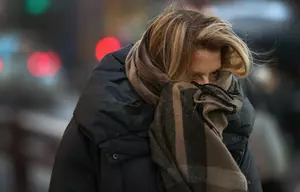 Getty Images
Rochester, MN (KROC AM News) - Rochester area residents are being told to expect a surge of cold air to enter the region Saturday and it could produce the coldest weather the region has experienced in nearly a year.  
Temperatures are expected to fall into the teens early Saturday and keep falling through the day. The sunrise temperature on Sunday could be 5 below zero or colder. The last time Rochester recorded a below zero reading was March 5th when the temperature bottomed at -12 degrees.  
Brisk winds are expected to make it feel even colder. Wind chill readings of -20 or colder are expected Sunday and Monday.
It will remain frigid through the middle of next week. Temperatures are expected to rise into the low 20's on Thursday.