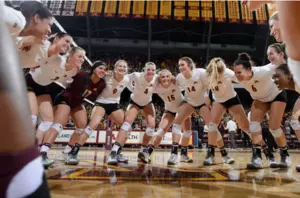 Gophers Ready for NCAA Volleyball Tournament
photo : gophersports.com
Minneapolis  (Gophersports.com) - The University of Minnesota plays in the opening round of the NCAA volleyball tournament Friday.
The Gophers secured the overall No. 2 seed and are hosting North Dakota, Southern California and Hawaii in the first two rounds at the Sports Pavilion.
Winners of the first round advance to the second round Saturday.
Minnesota is making its 21st NCAA tournament appearance, coming off a 2015 Final Four berth. In all, Minnesota has been to four Final Four appearances, seven Sweet 16 berths and two Elite 8 appearances.
Minnesota finished the Big Ten regular season in a second-place tie in the league standings. Nebraska won the title with an 18-2 record, followed by Minnesota (tiebreaker) and Wisconsin at 17-3. In a span of eight days, Minnesota finished off the regular season facing four ranked teams: No. 13 Michigan State, No. 18 Michigan, No. 1 Nebraska and No. 3 Wisconsin, winning all in five sets at home.
The Gophers went two straight regular seasons without dropping a home match.