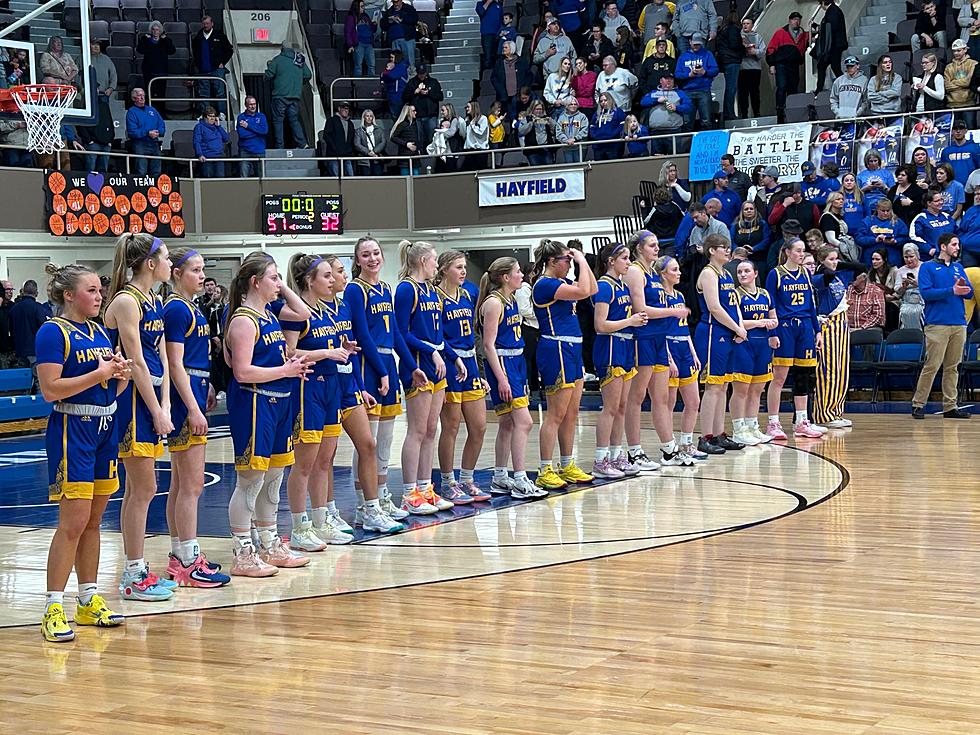 Hayfield, Goodhue Both #2 Seeds at State Girls Basketball
Hayfield Section 1A 2023 Champions. Photo by Gordy Kosfeld
Section 1A and 1AA received the #2 seeds in their respective State Tournament brackets despite having lower QRF numbers than other squads.
The Hayfield Vikings (27-3) will open the tournament against Badger/Greenbush-Middle River (26-2) Thursday, March 16, 2023 at 3:00 p.m. in Maturi Pavilion on the University of Minnesota Campus.
The Goodhue Wildcats (27-3) will go up against Crosby-Ironton (23-7) at the same site on Wednesday, March 15, 2023 at 6:00 p.m.
Class A top seed is #1 Minnesota Basketball News rated Mountain-Iron Buhl (27-3) who have a very tough draw in their opener.  Perennial power Minneota (21-7).  They collide at Maturi, 11:00 a.m. Thursday, March 16, 2023.
1:00 p.m. Thursday, March 16, 2023 #4 seed Underwood (26-3) faces #5 seed Belgrade-Brooten-Elrosa (25-4) in the Pavilion.
5:00 p.m. #3 seed BOLD (24-5) will play against the Cinderella of Class A United Christian Academy (14-11).
I saw Bethlehem Academy (10-15) defeat the Thunder 68-64 in Faribault before Christmas when UCA went 3-4 to start their season.  They have played a number of teams in the area, losing to Randolph by 18 points, Kingsland by 14 points, Mayer Lutheran 28 points, Hayfield 61-16.
The Bloomington based Christian school avenged two losses to West Lutheran to advance to the Section final where they defeated Heritage Christian in overtime 66-62.
The Thunder are building a new campus in Lakeville and boast on their website having students from 28 cities at their school.
#3 seed BOLD (includes cities of Bird Island, Olivia, Lake Lillian) has an enrollment of 179 students.  They were 2019 Class A baseball and girls golf champions.
The Warriors have six seniors on their roster while United Christian Academy has an enrollment of 105 and two seniors.
Badger/Greenbush-Middle River Gators have six seniors listed on their roster.  The high school enrollment is 128.
Hayfield High school enrollment is 186.
The Vikings lost to Mountain Iron-Buhl 79-33 in a early December meeting in Hopkins.  They also lost to Buffalo Lake-Hector-Stewart 82-57 in Hayfield.  Their other loss was to Waterville-Elysian-Morristown 59-54 in Hayfield.
The final Minnesota Basketball News girls basketball rankings had Buffalo Lake rated #3 and Hayfield #4.  BOLD is rated #5.
When was the last time Minneota was not rated going into a state tournament?
The Vikings defeated Southwest Minnesota Christian 60-51 in the Section title game after losing 4 of their last 5 games of the season including a 62-49 defeat to Southwest Christian.
They avenged a 54-41 loss to Lac Qui Parle Valley by beating them in the Section Semis 48-35.
The Rangers losses were all against Class AA schools.
St. Croix Lutheran 51-59 at St. Thomas Academy Thanksgiving weekend.  Crosby-Ironton 76-69 at a St. Cloud Holiday Tournament on the campus of St. Benedict College in St. Joseph and against top ranked Providence Academy 87-53 at Duluth East High School.
Mountain Iron-Buhl opened their season with a 70-56 win over a very good Class AAA State Tournament bound Stewartville Tigers team. Their enrollment is 132.
The Jaguars of Belgrade-Brooten-Elrosa were ranked #10 in final MBBN Girls Basketball Poll.  With an enrollment of 178 their 4 losses were all against Class AA schools.
Holdingford twice 58-49 and 68-64, Royalton 44-42 and Mountan Iron-Buhl in the Holiday Tournament at St. Cloud Tech 84-62.
In fact B-B-E had 19 of their 25 regular season games against Class AA competition.
Head Coach Kristina (Lurken) Anderson graduated from Kenyon-Wanamingo High School and played collegiately at Augsburg College.
Husband Chris Anderson is the Athletic Director, Dean of Students and Head Coach for boys basketball at B-B-E.
Jaguars opponent Underwood Rockets were ranked #8 in final Minnesota Basketball News girls ratings with three losses.  69-48 at Perham, 70-68 to Badger/Greenbush-Middle River 70-68 and Hancock 55-52.
The Rockets avenged their loss to defending state champs Hancock by defeating them in the Section title game 64-50 in Fergus Falls.
Class AA top seed, top ranked Providence Academy (27-2) lost to Bishop Garrigan Catholic of Algona, Iowa 93-89 at St. Thomas Academy Thanksgiving weekend.
The Golden Bears recently won their second straight Class 1A Iowa Girls Basketball State title led by all-time Iowa girls state tournament scorer, Audi Crooks, 6'3 senior, Iowa State signee.
Crooks father played basketball at Mankato State, sadly passed away last year.  She scored a Class 1A single game record 42 points in a game during this year's tournament.
If you are wondering the University of Minnesota did join many other Division One schools in offering a scholarship for her to continue her athletic career.
Providence Academy Lions other loss came against Class 3A top seed Becker 83-76 at Hopkins.
Providence Academy is in Plymouth with an enrollment of 321.
Lake Crystal Wellcome Memorial Knights (29-1) only loss came against Rochester Lourdes 64-56 in Hayfield on January 7, 2023.
The Knighrts were ranked #9 in the final MBBN Class AA poll.
Goodhue was rated #3 in final poll with losses to Providence Academy in Plymouth 74-48, Class AAA Stewartville twice 73-62 and 68-51.  The Tigers are in the Class AAA State Tournament.
The Wildcats enrollment is 187.  The lowest in the Class AA tournament.
Crosby-Ironton was ranked #10 in final MBBN poll.  The Rangers enrollment is 258.
C-I opened their season with losses to Proctor 61-40 at their place and Albany 63-35 in Hopkins.
The Rangers fell to Montevideo 62-59 in St. Cloud Holiday Tournament.  Pine City 67-59, Pequot Lakes 63-38, Class AAA Detroit Lakes 77-53, Class AAA Holy Family Catholic 66-53.
Crosby-Ironton defeated Proctor in their Section Tournament 55-53 then downed Pequot Lakes in final 76-69.
The Rangers are led by Tori Oehrlein, freshman, 5'11 guard averaging 31.5 points, 14.4 rebounds and 6.4 assists per game,  The only other teammate averaging double figures is Hannah Compton, senior, 5'8 with a 14 points per contest average.
Compton has 77 three point baskets while shooting 40 percent from beyond the arc.
Oehrlein has 68 three point baskets while shooting 36 percent.
The Rangers average 69.5 points, allow 55.6 points per game.
#3 seed and #2 rated  Albany Huskies only loss came against #4 ranked and #4 seed New London-Spicer.  The Wldcats have just one loss also so it's interesting the Huskies received a higher seed.
Albany enrollment of 497 is the largest in the field. Their first opponent Perham is 26-3 with an enrollment of 433.  The Yellowjackets losses were to Sauk Centre 57-51, Pequot Lakes 63-52 and Providence Academy 96-65.
Minnehaha Academy in Minneapolis was rated #7 in final MBBN poll.  The Redhawks have a enrollment of 377 with seven losses this season.
Minnehaha lost to AAAA Minnetonka 66-52, AAA State entrant Benilde-St. Margaret's 90-77 at Hamline University, Goodhue 61-58 at Kasson-Mantorville High School, Providence Academy 71-60, Class AAA State entrant Becker 91-88 and Crosby-Ironton 73-68 in Crosby.
New London-Spicer has an enrollment of 416.  The Wildcats lone loss was to Crosby-Ironton in Crosby 59-58.
Makes you wonder how the Rangers are a random draw with the same number of losses as #5 seed Minnehaha and a win over the Redhawks.
carbongallery id="640e58b1726a7421a0917ae1"]