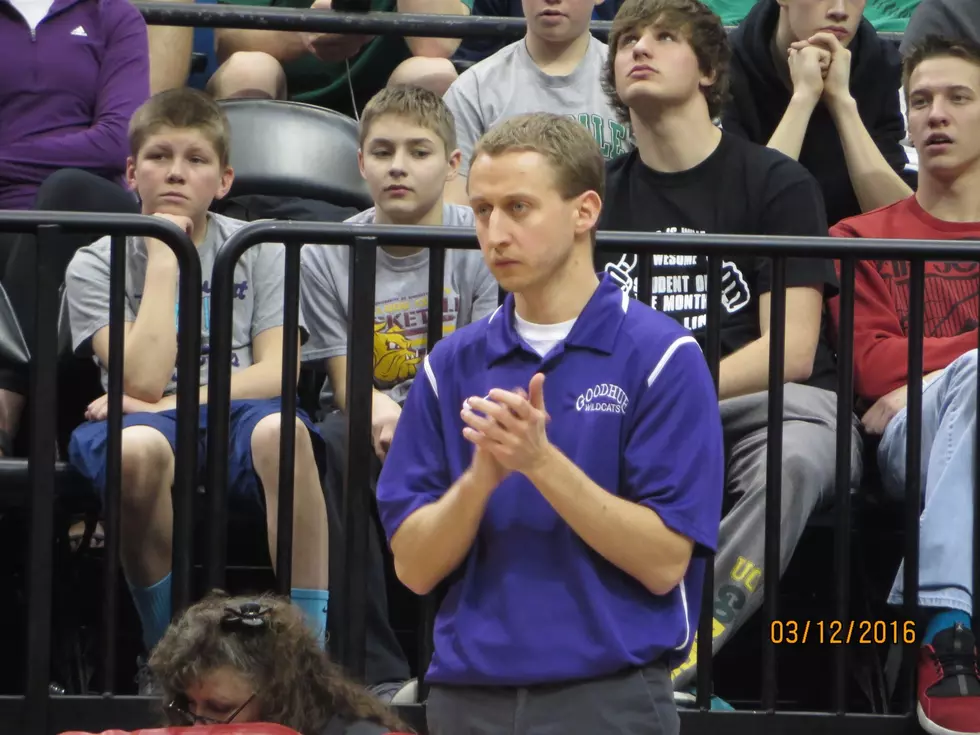 MBBN New Boys Class 1A and 2A Top Teams
Goodhue Head Coach Matt Halverson at State. File Photo 2016
Minnesota Basketball News first rankings in 2023 had a number of changes following some holiday tournament action.
New Class 1A #1 is New Life Academy after they defeated Cherry.  Cass Lake-Bena jumped to #2 dropping two-time defending State Champion Hayfield to #4.
Goodhue is #6, Mankato Loyola #9, Lyle-Pacelli #12.
Undefeated Lake City is #1 in Class 2A.  Gopher Conference member Maple River is still #5, Lake Crystal-Wellcome Memorial #9 and Watertown-Mayer #11.
Class 3A #1 is still Totino-Grace.  Mankato East #8, Austin #9, Winona #18, Mankato West #19, Jordan #20.
Class 4A top team is still Park Center, Lakeville North stays at #2.  Eastview is #6, Farmington #8. Shakopee #10, Prior Lake #14, Lakeville South #15 and Rochester Mayo #17.
Complete listings are below:
Class 1A
New Life Academy
Cass Lake-Bena
Cherry
Hayfield
Belgrade-Brooten-Elrosa
Henning
Goodhue
Russell-Tyler-Ruthton
Mankato Loyola
Legacy Christian
Lakeview
Lyle-Pacelli
Ada-Borup-West
Deer River
Southwest MN Christian
Browerville-Eagle Valley
Battle Lake
Mahnomen-Waubun
Lester Prairie
Warren-Alvarado-Oslo
Class 2A
Lake City
Holy Family Catholic
Minneapolis North
Maranatha Christian
Maple River
Minnehaha Academy
Perham
Albany
Lake Crystal-Wellcome Memorial
Esko
Watertown-Mayer
Mora
Pequot Lakes
Thief River Falls
West Central Area
Minneapolis Edison
Dassel-Cokato
Two  Harbors
New London-Spicer
Blue Earth Area
Class 3A
Totino-Grace
Benilde-St. Margaret's
DeLaSalle
Orono
Mahtomedi
Alexandria
Princeton
Mankato East
Austin
Hermantown
New Ulm
St. Anthony Village
Delano
Worthington
Big Lake
Marshall
South St. Paul
Winona
Mankato West
Jordan
Class 4A
Park Center
Lakeville North
Hopkins
Maple Grove
Eden Prairie
Eastview
Minnetonka
Farmington
Wayzata
Shakopee
Cretin-Derham Hall
Andover
Stillwater
Prior Lake
Lakeville South
East Ridge
Rochester Mayo
Buffalo
Mounds View
Brainerd
CHECK IT OUT: The Evolution of Minnesota's Pro Sports Team's Logos