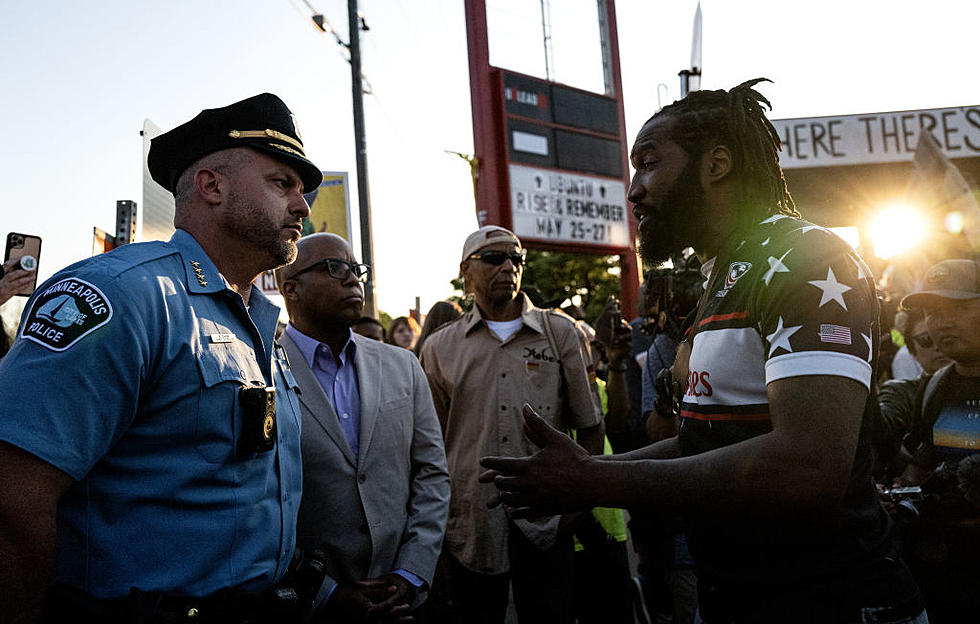 Minneapolis Police See 36% Drop in Sworn Officers After George Floyd's Murder
Getty Images
(The Center Square) – The Minneapolis police department has seen a 36% drop in sworn officers while funding remains nearly the same more than three years after the death of George Floyd and the start of the movement to shift resources away from police.
The city of Minneapolis was ground zero for the movement to defund the police after the murder of Floyd by Minneapolis Police in May 2020. The movement focused on taking resources from the police department and shifting them to social services.
At the time of Floyd's death in 2020, the city employed 888 sworn police officers and spent $178.6 million on the police department. The number of sworn police officers dropped to 571 as of Sept. 11, according to a city report. The city allows for the funding of up to 731 sworn officers. The city still spent $175.6 million on the police department in 2022.
A federal investigation of the police department that was done by the U.S. Department of Justice and released in June stated that the city has tried but was not able to replenish its ranks within the police department.
Police expenses accounted for nearly 33 cents out of every dollar the city spent in 2022 from its general fund, which is used to pay for operational expenses. The city spent $175.6 million in 2022 on police out of its $555 million in general fund expenditures, according to city budget documents.
The number of arrests by Minneapolis police has plummeted over the past 10 years. Police made 34,146 arrests in 2012, according to data submitted by the city to the FBI. Arrests dropped to 8,575 in 2020 and then fell to 6,252 arrests in 2022.
According to FBI data, violent crime has remained relatively level from 2020 through 2022. There were 4,595 violent crime incidents in 2022 in Minneapolis. There were 5,059 violent crime incidents in 2021 and 4,551 in 2020.
Minneapolis has had 59 homicides through Oct. 17, which is down from 73 at the same point last year, according to crime data provided on the city's website. Sex offenses were up 9% and assault offenses were up 2% in 2023 as compared to the same point last year.
In the aftermath of Floyd's murder, a proposal was put to voters in November 2021 to replace the police with a department of public safety. The new Department of Public Safety would have a "comprehensive public health approach" and "could" include police officers. Voters rejected that plan.
The city's police department had a troubled history of violating civil rights. The police department was sued in June 2020 by a commissioner for the state's Department of Human Rights alleging a pattern of racial discrimination.
The federal investigation released in June found the police department had committed civil rights violations.
"These findings present a sobering picture of a flawed system – but today we turn towards change through justice," First Assistant U.S. Attorney Ann Bildtsen for the District of Minnesota said in a statement. "This thorough investigation is the foundation to make fair and lawful policing a reality for our entire community."
The department has adopted more than 25 reforms since June 2020, including when to use deadly force, prohibition of no-knock warrants and banning chokeholds.
The Minnesota Coalition, a group of associations working on police reform, didn't respond to an email seeking comment. The city of Minneapolis mayor's office and the city's media relations department for the police department did not respond to emails seeking comment.
The 25 Best Places to Live in Minnesota
Stacker
compiled a list of the best places to live in Minnesota using data from
Niche
. Niche ranks places to live based on a variety of factors including cost of living, schools, health care, recreation, and weather. Cities, suburbs, and towns were included. Listings and images are from
realtor.com
.
On the list, there's a robust mix of offerings from great schools and nightlife to high walkability and public parks. Some areas have enjoyed rapid growth thanks to new businesses moving to the area, while others offer glimpses into area history with well-preserved architecture and museums. Keep reading to see if your hometown made the list.
The Center Square
is a project of the 501(c)(3) Franklin News Foundation. We engage readers with essential news, data and analysis – delivered with velocity, frequency and consistency. If you would like to read the original article,
click here.