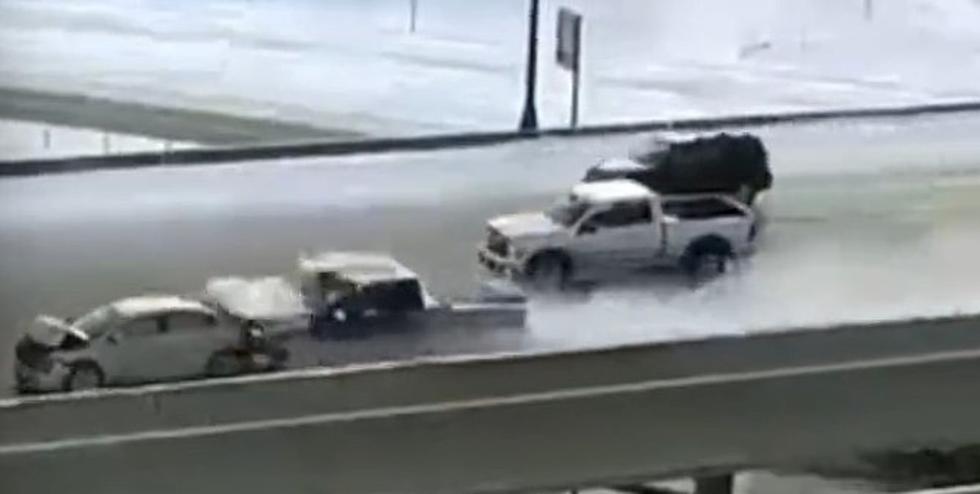 Watch: Minnesota Driver Seriously Injured After They Got Out of Vehicle In Four Car Pile Up [VIDEO]
Photo: MNDOT Video on Midwest Safety Twitter
Getting in a car accident is a terrifying experience, especially on a busy freeway going at a high rate of speed. For many people, their first instinct is to get out of their vehicle and inspect the damage or maybe try to assess if they are injured, but this can be deadly. We have all heard so many stories of people being injured or killed when they have gotten out of their vehicles on a busy road.
Yesterday morning a driver who had crashed did just that and was standing next to his vehicle after a collision with some other cars when suddenly two more vehicles crashed causing a four-car pile-up and severely injuring that driver.
Bring Me The News Reports: According to the Minnesota State Patrol, the incident happened when a Nissan Rogue and a Buick LaCrosse collided on HWY 77 in Eagan. Video shows both vehicles pulled over in the far left lane with the Nissan in front and the driver standing next to his vehicle with the front door open.
Suddenly the driver of a Chevy Silverado rear-ended the Buick which sent it crashing into the Nissan hitting the driver who was standing next to his vehicle. That is when the fourth vehicle a Mazda rear-ended the Silverado causing a four-car pile-up.
The video above shows just how quickly these accidents can go from bad to worse with a few drivers not paying attention and crashing into the original 2 vehicles. This is a prime example of why you should always remain in your vehicle if possible, especially on a busy freeway like this one. Hopefully, the driver who was injured will make a full recovery.
14 Of The Most Minnesota MNDOT Messages
16 Strange Travel-Related Things That Have Happened On Minnesota / Wisconsin Roads