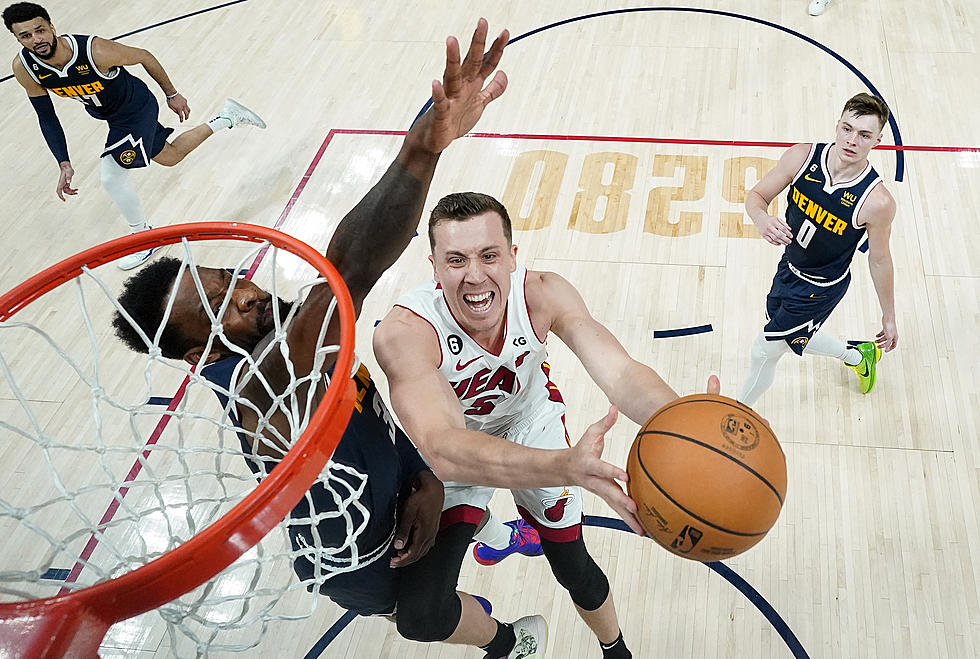 NBA Finals All Even, Miami Heat Comeback Win
Photo by Mark J. Terrill - Pool/Getty Images
DENVER -- Jimmy Butler believes there is a simple reason the Miami Heat remain so resilient throughout the most unlikely postseason run in recent memory.
After finishing off a 111-108 victory over the Denver Nuggets in Game 2 of the NBA Finals on Sunday night, evening the series at 1-1, Butler offered an explanation as to why this particular group -- the No. 8 seed in the Eastern Conference -- continues to find a way to win games.
"I just think nobody cares on our team," Butler said, after scoring 21 points and dishing out nine assists in 40 minutes. "We're not worried about what anybody thinks. We're so focused on what we do well and who we are as a group that at the end of the day, that's what we fall back on. Make or miss shots, we're going to be who we are because we're not worried about anybody else. That's how it's been all year long, and that's not going to change. So that's what I think it is. I think it's the 'I don't give a damn' factor."  
Down by as many as 15 in the first half, the Heat climbed their way back into yet another game by leaning on Gabe Vincent, who scored a team-high 23 points and hit several key shots for a team that had to pick up Butler, who struggled to find his offensive rhythm until making some critical shots late.
After going to the free throw line just twice in Game 1 and getting knocked around at times by Nuggets star Nikola Jokic & Co., the Heat made a point to be more aggressive, showing once again what has made them so mentally strong this postseason. Adebayo noted that part of the edge comes from the Heat hearing some of the doubts people have had about their run.    
Game-3 switches to the Heats home court on Wednesday. ESPN 102.3/AM 1000 KSOO will have coverage beginning at 6:30 PM.
LOOK: Here are the 10 US golf destinations with the most courses per capita
Discover where you can find the best access in the country for your pick of courses, the unique terrain that lends itself to world-class golf, and what makes select clubs noteworthy.
LOOK: What major laws were passed the year you were born?
Data for this list was acquired from trusted online sources and news outlets. Read on to discover what major law was passed the year you were born and learn its name, the vote count (where relevant), and its impact and significance.