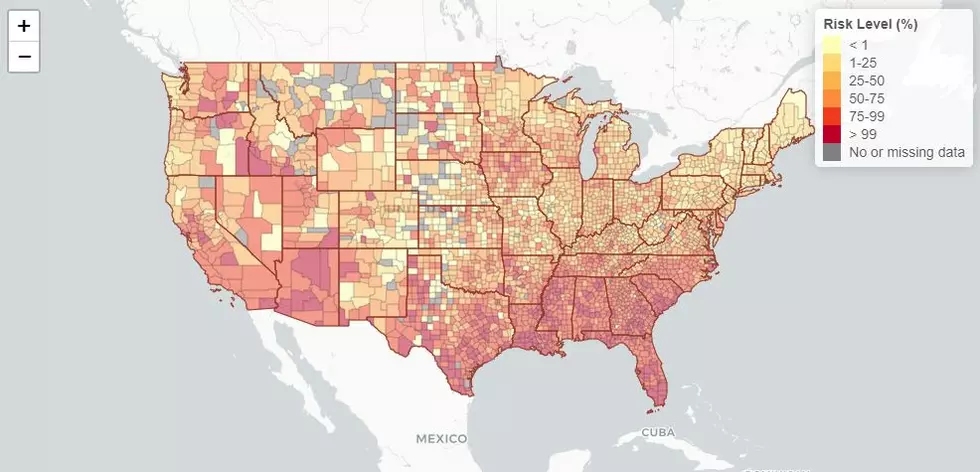 New Interactive Map Shows Risk of Encountering COVID-19 at an Event in Each Minnesota County
Credit: Georgia Tech
Enter your number to get our free mobile app
There was a new interactive map developed by Georgia Tech that will tell you the chance of encountering at least one person with COVID-19 if you attend an event in that county. Here's how it works.
On the map, you can zoom in to find the county you're looking for. On the left side, you can adjust the size of the event anywhere from 10 people to 10,000 people. It will then calculate the percent chance that you would encounter at least one person with COVID while in that county.
I thought this was very interesting, so I looked at the counties in Southeast Minnesota.
Let's say we're at an event with 100 people. Here are the chances that at least one person who is COVID positive would be at that event in each Southeast Minnesota county (as of the early afternoon of Tuesday, July 14th, 2020):
Dakota County - 74%
Dodge County - 58%
Fillmore County - 41%
Freeborn County - 67%
Goodhue County - 42%
Houston County - 45%
Mower County - 84%
Olmsted County - 80%
Rice County - 74%
Steele County - 62%
Wabasha County - 34%
Winona County - 47%
You can check out the map for yourself HERE.
The counties with a 99% chance or greater of at least one person in a group of 100 being COVID positive are Watonwan County, Pipestone County, and Grant County.
MASK UP! Trending Mask Designs For Sale Benefiting a Good Cause
READ MORE: Coronavirus Risk Level by Activity