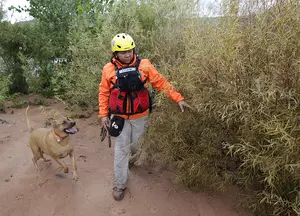 Nine Dead, One Missing in Arizona Flash Flood
Getty Images
TONTO NATIONAL FOREST, Ariz. (AP) — Adults, teens and children as young as 2 were enjoying a summer afternoon by cooling off in an Arizona creek when the gentle waters turned deadly.
The group from the Phoenix and Flagstaff areas had met Saturday for a day trip along a popular swimming hole near Payson, about 100 miles (160.9 kilometers) northeast of the capital. They set up lounge chairs not knowing an intense thunderstorm was dumping heavy rainfall just upstream in the Tonto National Forest.
Search and rescue crews, including 40 people on foot and others in a helicopter, recovered the bodies of five children and four adults, some as far as 2 miles down the river. Authorities did not identify them.
A 13-year-old boy from the same group was still missing Sunday.
Disa Alexander was hiking to the swimming area where Ellison Creek and East Verde River converge when the water suddenly surged.
Video she posted to social media showed torrents of water surging through jagged canyons carved in Arizona's signature red rock.
"I could have just died!" Alexander exclaimed on the video.
She spotted a man holding a baby and clinging to a tree. Nearby, his wife was also in a tree. A boy Alexander described as the couple's son was on the rocks above the water.
Had they been swept downstream, they would have been sent over a 20-foot waterfall, Alexander said.
Alexander and others tried to reach them but couldn't.
Fortunately help was close by.
Some search and rescue team members were already near the swimming hole after getting a call to help someone who had suffered a bad allergic reaction, according to Detective Sgt. David Hornung of the Gila County Sheriff's Department.
When they arrived at the scene, "they heard someone screaming for help and saw a man clinging to a rock," said Hornung, who added that the man was safely rescued. "Then they heard other people calling for help."
Four people were rescued and taken to the hospital for treatment of hypothermia.
Some 40 rescuers in bright orange T-shirts and helmets dotted the green landscape as they combed the waters and banks for the missing boy. A few brought along specially trained search dogs hoping to find him alive, Hornung said.
The family, who was staying in the area, declined to be interviewed when approached by an Associated Press reporter.
The National Weather Service estimated up to 1.5 inches of rain fell over the area in an hour. The thunderstorm hit about 8 miles upstream along Ellison Creek, which quickly flooded the narrow canyon where the swimmers were.
Hornung noted that the National Weather Service had issued a flash flood warning about 1 1/2 hours before, "but unless they had a weather radio out there, they wouldn't have known about it. There is no cell phone service out here."