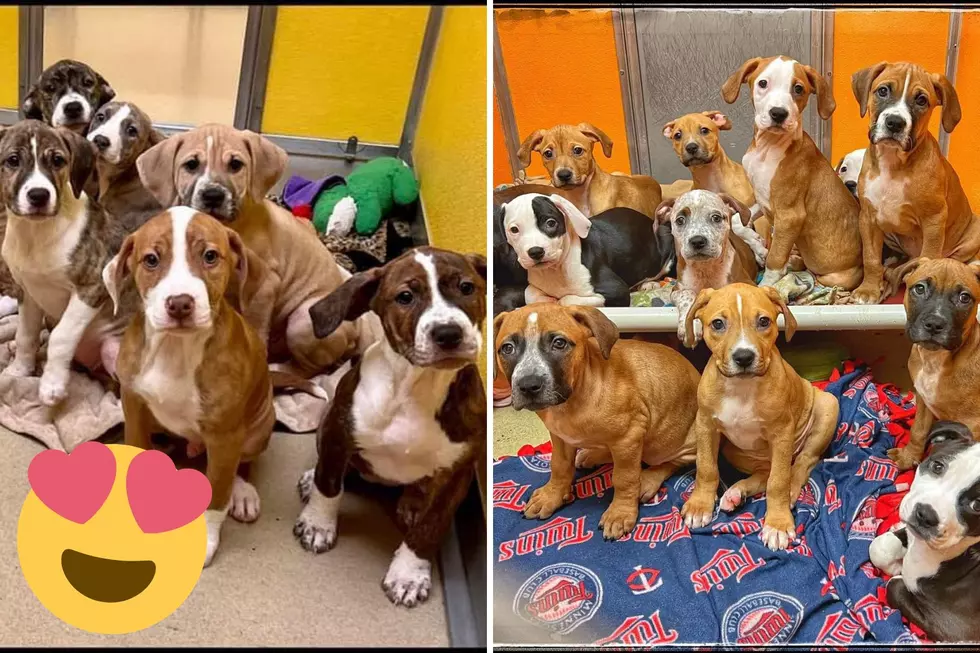 50+ Puppies at Rochester Animal Rescue, Here's How to Help
Paws and Claws Humane Society via Facebook
Hi, crazy animal lover Carly, back again with another animal story! As sad as it is, there's a never-ending stream of dogs and cats that need forever homes in and around Rochester, Minnesota. I volunteer at Paws and Claws Humane Society in Rochester and every time a dog kennel opens up it quickly gets filled with another dog that needs our help. That's the case always but especially now. There are a whopping 50 puppies at Paws and Claws currently! Not all of them are ready for adoption yet but there are plenty that are if you're looking.
Lots of Puppies for Adoption at Paws and Claws in Rochester, MN
50 is just such a huge number of puppies. With such a large number of growing dogs Paws and Claws could seriously use our help. And don't worry, I'll show you pictures of some of the puppies at the end!
How to Help the Paws and Claws Puppies
One way you can help the Paws and Claws puppies is by making a monetary donation to help with the costs of the spays, neuters, and all of the food they'll go through while there.
Another way you can help is by buying items that the puppies need. They have a wish list on their website but their Facebook post also says the most pressing need right now is puppy food.
If you aren't able to spare any extra money right now, volunteering is also an option. It's super important that puppies get socialized so having volunteers who can do that is very valuable.
And finally, the most obvious one is you can adopt one of these adorable puppies. However, please please please really consider if you're able to take care of a puppy before adopting one. It's so sad and infuriating when a puppy gets brought back because they were "too energetic". It's a puppy, y'all, what did you think was going to happen?
Anyway... whether you're interested in adopting a puppy or you just want to look at cute puppy pictures, here are some of the adorable cuties up for adoption at Paws and Claws! Some of these doggos may be adopted by the time you're reading this so make sure to check Paws and Claws' website for the most updated list.
Up first we have Alpine, Brooks, Dune, Moss, Ria, Sage, Summitt, and Terra. They all come from the same litter. Their breed is listed as 'mixed breed' and they're expected to be over 44 lbs when fully grown.
Next are what Paws and Claws call the 'Constellation Puppies'. The ones left out of this litter (as of writing this story) are Carina, Delphie, Draco, Leo, and Orion.
The next litter of puppies is called the 'Bakers Dozen'. The puppies left as of writing this story are Beatrice, Clementine, Jezebel, Monica, Patty Pooty, Penny Pooty, Poppy, and Sassy.
And finally, there are two cute golden doodles named Phineas and Ferb.
RANKED: Here Are the 63 Smartest Dog Breeds
Does your loyal pup's breed make the list? Read on to see if you'll be bragging to the neighbors about your dog's intellectual prowess the next time you take your fur baby out for a walk. Don't worry: Even if your dog's breed doesn't land on the list, that doesn't mean he's not a good boy--some traits simply can't be measured.