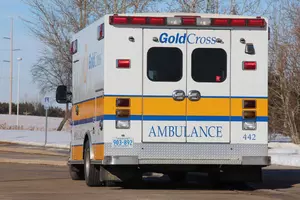 Rochester Man Breaks Leg in Snowmobile Accident
Sue Moore/Townsquare Media
Rochester, MN (KROC AM News) - A Rochester man suffered a broken leg Sunday in a snowmobile crash.
The Olmsted County Sheriff's Office says 24-year-old Nathan Jacobson was snowmobiling with two others along 65th St NW near County Road 3 when he collided with one of the other drivers.
Jacobson was doing about 35 mph at the time and did not see the other snowmobile had stopped. Jacobson braked hard and his snowmobile slid sideways into the other one. His leg was pinned between the two snowmobiles and he suffered a compound fracture.
The other driver wasn't hurt.
Get local and national news on the go.  Download our News-Talk 1340 KROC-AM App http://krocam.com/app/ – available on Apple and Android devices.