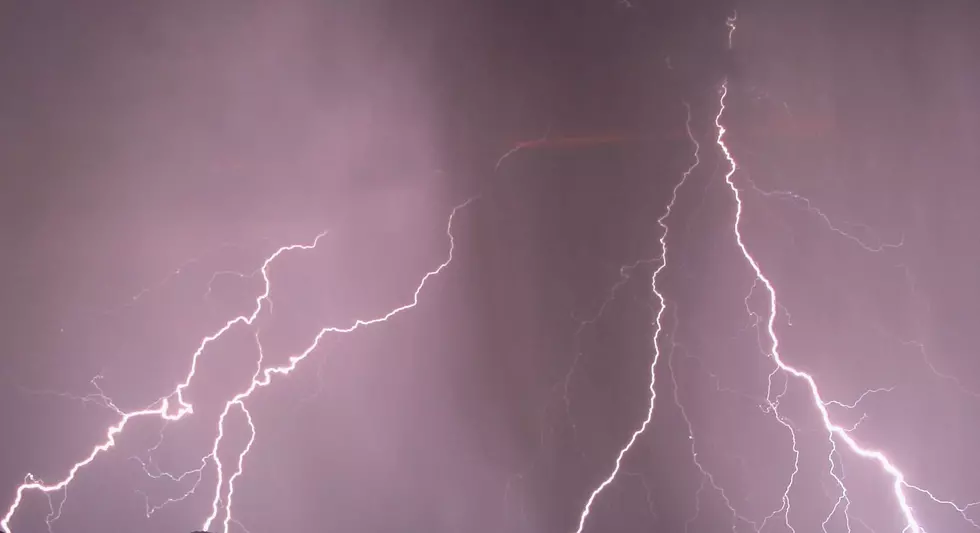 Severe Thunderstorm Warning Just South of Rochester
Getty Images
UPDATE AT 3:30 PM CDT: Fillmore County Minnesota is under a severe thunderstorm warning until  4:30 PM CDT.
FILLMORE COUNTY IN SOUTHEASTERN MINNESOTA... * UNTIL 430 PM CDT. * AT 325 PM CDT, SEVERE THUNDERSTORMS WERE LOCATED ALONG A LINE EXTENDING FROM NEAR SPRING VALLEY TO NEAR LE ROY TO 6 MILES EAST OF NORTHWOOD, MOVING SOUTHEAST AT 30 MPH. HAZARD...60 MPH WIND GUSTS. SOURCE...RADAR INDICATED. IMPACT...EXPECT DAMAGE TO ROOFS, SIDING, AND TREES. * SEVERE THUNDERSTORMS WILL BE NEAR... SPRING VALLEY AND WYKOFF AROUND 330 PM CDT. PRESTON AROUND 345 PM CDT. LIME SPRINGS AROUND 355 PM CDT. OSAGE AROUND 400 PM CDT. HARMONY AROUND 405 PM CDT. CANTON AROUND 410 PM CDT. CRESCO AROUND 415 PM CDT. PROTIVIN AROUND 430 PM CDT. OTHER LOCATIONS IMPACTED BY THESE SEVERE THUNDERSTORMS INCLUDE VERNON SPRINGS COUNTY PARK, FORESTVILLE STATE PARK, TOETERVILLE, ROCK CREEK, VERNON SPRINGS, OTRANTO AND COUNTY ROADS V 58 AND A 46. PRECAUTIONARY/PREPAREDNESS ACTIONS... FOR YOUR PROTECTION MOVE TO AN INTERIOR ROOM ON THE LOWEST FLOOR OF A BUILDING. TORRENTIAL RAINFALL IS OCCURRING WITH THESE STORMS, AND MAY LEAD TO FLASH FLOODING. DO NOT DRIVE YOUR VEHICLE THROUGH FLOODED ROADWAYS. && HAIL...<.75IN WIND...60MPH
...A SEVERE THUNDERSTORM WARNING REMAINS IN EFFECT UNTIL 330 PM CDT
FOR SOUTHWESTERN OLMSTED...NORTHEASTERN MOWER...SOUTHEASTERN DODGE
AND SOUTHWESTERN FILLMORE COUNTIES...
At 259 PM CDT, a severe thunderstorm was located near Grand Meadow,
or 18 miles east of Austin, moving southeast at 50 mph.
HAZARD...60 mph wind gusts.
SOURCE...Radar indicated.
IMPACT...Expect damage to roofs, siding, and trees.
This severe storm will be near...
Spring Valley around 310 PM CDT.
Other locations impacted by this severe thunderstorm include
Forestville State Park, Oslo, Etna, Sargeant, York, County Roads 1
And 7 and Cherry Grove.
PRECAUTIONARY/PREPAREDNESS ACTIONS...
For your protection move to an interior room on the lowest floor of a
building.
Torrential rainfall is occurring with this storm, and may lead to
flash flooding. Do not drive your vehicle through flooded roadways.