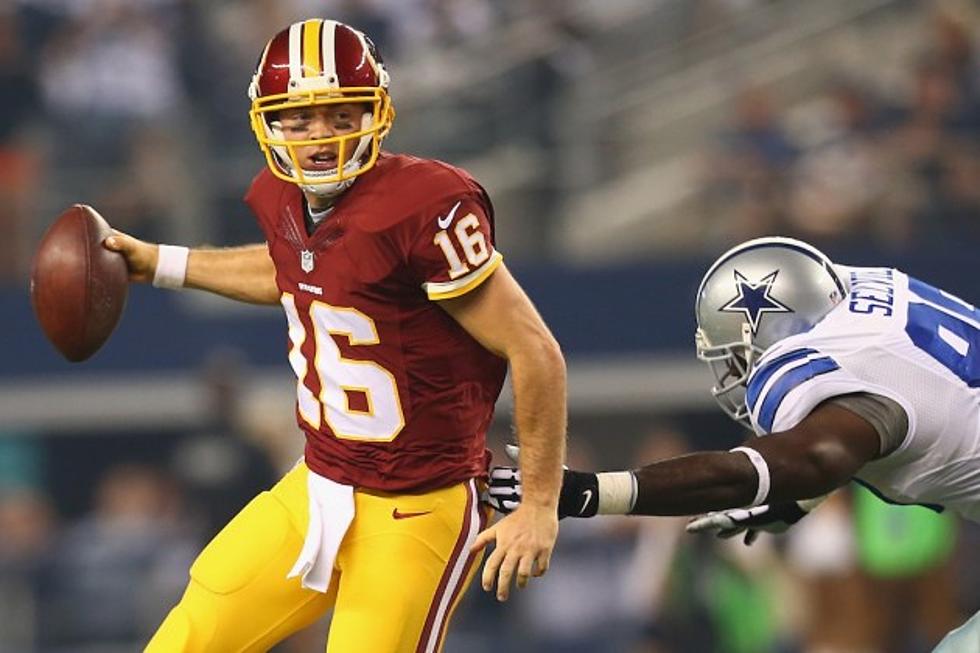 Washington Redskins Upset Dallas Cowboys, 20-17, In Overtime
Getty Images
Kai Forbath kicked a 40-yard field goal in overtime, and the Washington Redskins upset the Cowboys, 20-17, in Dallas on Monday night. Washington (3-5) knocked out Cowboys' quarterback Tony Romo early in the second half only to see him return to the game with 1:52 to play.
After the Redskins took the lead on Forbath's overtime kick, Romo was unable to move Dallas (6-2) downfield into position to tie or win. His fourth-down pass attempt to Dez Bryant was broken up by rookie defensive back Bashaud Breeland to end the game. Romo almost turned the ball over on both a fumble and a near-interception on the Cowboys' final possession of regulation.
Dallas reserve quarterback Brandon Weeden threw a game-tying 25-yard touchdown pass to Jason Witten with 9:27 to play in the fourth quarter. He entered the game when Romo was injured after being sacked by Keenan Robinson on the Cowboys' first series of the second half.
Dallas turned the ball over twice in the first half, but still led 7-3 at halftime. Washington surged to a 10-7 lead on Alfred Morris' 5-yard touchdown run on the first possession of the second half. Weeden replaced the injured Romo and steered the Cowboys to a game-tying field goal in the third quarter. Colt McCoy put the Redskins up 17-10 on a 7-yard touchdown run early in the fourth quarter.
McCoy completed 25 of 30 passes for 299 yards and one interception. He threw a clutch pass to Jordan Reed in overtime to help move Washington into position for Forbath's big kick.
DeSean Jackson caught six passes for 136 yards for the Redskins.
Dallas running back DeMarco Murray became the first player in NFL history to start a season with 100 or more rushing yards in eight straight games. He carried 19 times for 141 yards, remaining on pace to break Eric Dickerson's NFL-record 2,105 rushing yards in a season. Murray also caught four passes for a team-high 80 yards.
Romo finished with 209 passing yards and a touchdown.