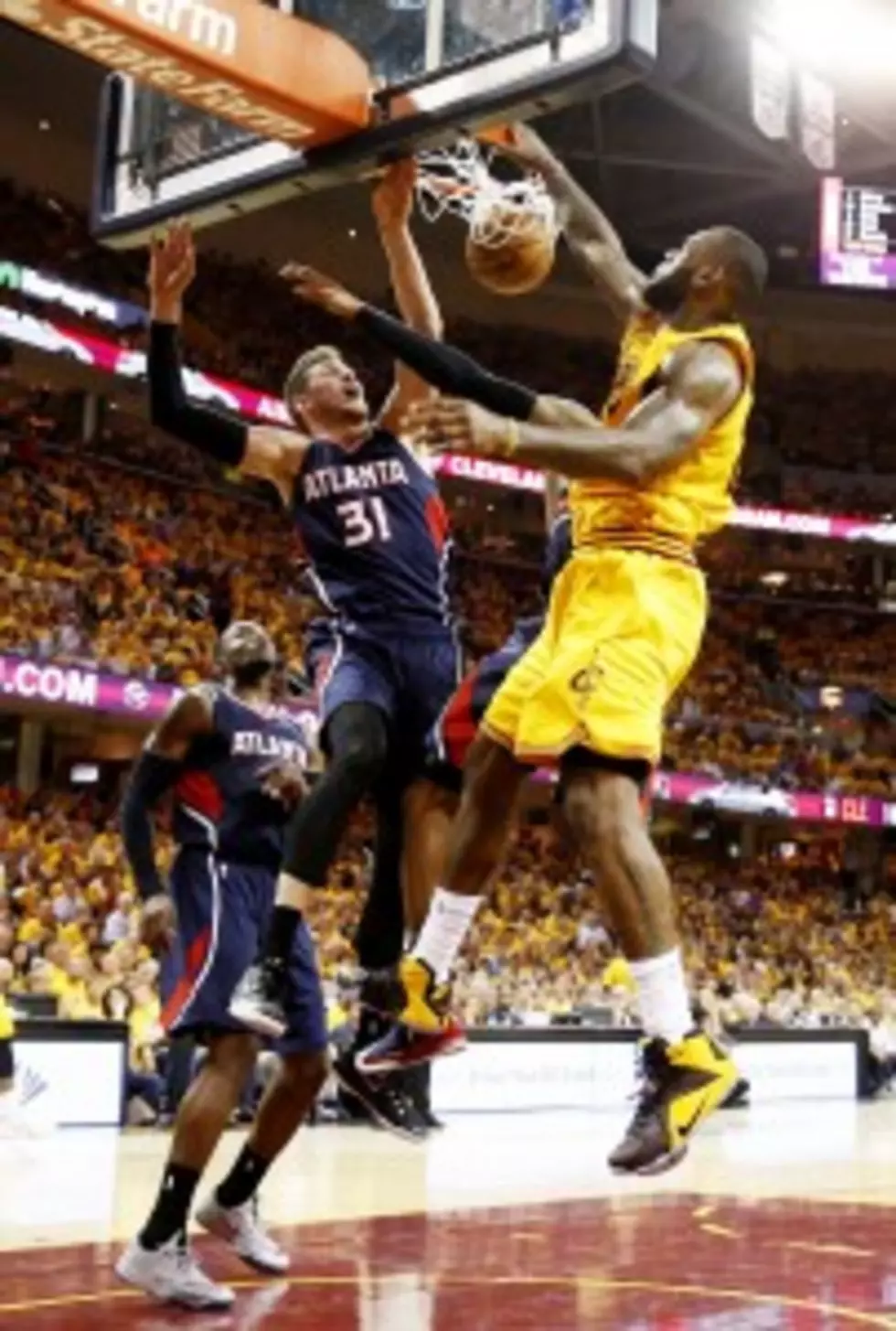 By:Gregory Shamus/Getty Images Sport
Cavs on the verge of NBA Finals
CLEVELAND (AP) — Not too many NBA players can record a triple-double after missing their first 10 shots. Then again, LeBron James is no ordinary player.
James shook off his early shooting misery to finish with 37 points, 18 rebounds and 13 assists as the Cleveland Cavaliers downed the Atlanta Hawks 114-111 in overtime to take a 3-0 lead in the Eastern Conference finals. King James nailed a 3-pointer with 36.4 seconds left to put the Cavs ahead by one before hitting a runner with 12.8 seconds remaining to cap the scoring.
The Hawks had two chances to tie it in the final seconds, but Shelvin Mack missed two 3-pointers.
Early on, it looked like the Cavaliers were in trouble as they played their second straight game without Kyrie Irving because of tendinitis in his left knee. James was 0-for-5 when he was pulled from the game with just over four minutes left in the first quarter and the Hawks leading 20-13. James missed three more shots in the last three seconds of the opening period, and two more in the second before finally draining a turnaround jumper with about seven minutes left in the half.
Matthew Dellavedova contributed 17 points in place of Irving, while J.R. Smith came off the bench to added 17.
Jeff Teague had a team-high 30 points for the Hawks, who lost Al Horford to an ejection in the first half. Paul Millsap had 22 points and nine rebounds to help Atlanta keep it close.
The Cavaliers can clinch a triple to the NBA Finals on Tuesday in Cleveland.
Another Indy win for Montoya
INDIANAPOLIS (AP) — Juan Pablo Montoya certainly has put his NASCAR experience in his rear-view mirror.
Montoya has won the 99th Indianapolis 500, finishing just ahead of teammate Will Power. His second victory at the Brickyard comes 15 years after he won the race before trying his hand at Formula One and NASCAR.
Montoya started 15th and twice drove from the back of the field. He fearlessly charged into the final few laps as the leader in an odds-defying victory.
Montoya was bumped from behind during an early caution and had to pit to repair the damage, leaving him second-to-last in the field. After working his way back through the field, he was penalized for running over his air hose during a pit stop.
Montoya's charge gives Roger Penske his 16th Indianapolis 500 win, and first since Helio Castroneves in 2009. It comes two years after Team Penske signed him following a nine-year stint in stock car racing.
Charlie Kimball was third, followed by pole-sitter Scott Dixon.
Edwards wins in Charlotte
CONCORD, N.C. (AP) — Carl Edwards picked one of NASCAR's marquee races to end his lengthy winless streak.
Edwards grabbed the lead with 20 laps remaining before capturing the Coca-Cola 600 at Charlotte Motor Speedway. He moved in front as most of his competitors needed green-flag pit stops. Edwards remained on the track the remainder of the race and cruised to his first victory at Charlotte.
It was Edwards' first victory in 50 races since November 2013 at Texas Motor Speedway.
Greg Biffle was second, followed by Dale Earnhardt Jr., pole-sitter Matt Kenseth and Martin Truex Jr.
The outcome gives Joe Gibbs Racing a Charlotte sweep, one week after Denny Hamlin won the All-Star Race.
NHL PLAYOFFS-LIGHTNING/RANGERS
NEW YORK (AP) — The Tampa Bay Lightning will have a three-games-to-two lead when they host the New York Rangers in Game 6 of the NHL's Eastern Conference finals.
The Lightning are one win away from their second trip to the Stanley Cup finals following a 2-0 shutout of the Blueshirts at Madison Square Garden. Ben Bishop stopped 26 shots for his second shutout of the postseason, one game after he surrendered five goals on 24 shots.
Both goals came within a five-minute span late in the second period. Valtteri Filppula  opened the scoring at 13:29 of the period before Steven Stamkos added a power-play goal.
Henrik Lundqvist stopped 20 shots for the Rangers, who will try to stave off elimination when they visit the Lightning on Tuesday.
MONACO (AP) — Nico Rosberg won the Monaco Grand Prix in a wild finish. Mercedes teammate Louis Hamilton led much of the race but made a late pit stop that caused him to finish third, behind Ferarri's Sebastian Vettel.
Peterson to skip workouts
MINNEAPOLIS (AP) — The Minnesota Vikings apparently will hold optional practices this week without Adrian Peterson.
A person with knowledge of the situation tells The Associated Press that the running back has informed Vikings coach Mike Zimmer that he will not be attending. Peterson has been unhappy with the Vikings for a perceived lack of support from within the organization while he addressed child abuse charges last season.
The Vikings have said they have no plans to trade Peterson, who could lose out on a $250,000 workout bonus by skipping the practices this week. He is not required to attend any team functions until a mandatory minicamp next month.
UNDATED (AP) — Michael Wacha became baseball's second seven-game winner of the season, joining Seattle's Felix Hernandez while allowing the St. Louis Cardinals to avoid a three-game sweep by Kansas City.
Wacha allowed an unearned run and five singles in seven innings as the Cards dumped the Royals 6-1. Wacha lowered his ERA to 1.87 and became the first Redbirds hurler to open a season 7-0 since Matt Morris won his first eight decisions of 2005.
Matt Carpenter smacked a two-run homer in the sixth to put the Cardinals ahead 4-1. Yadier Molina Molina added a two-run single and Matt Adams doubled home a run as the Cards ended a three-game skid.
— Edwin Encarnacion and Ryan Goins belted two-run homers as Toronto decked Seattle 8-2 to avoid a three-game sweep. Aaron Sanchez pitched the Blue Jays to their third victory in 12 games, allowing two runs and seven hits in 6 2/3 innings.
— Cleveland has a six-game winning streak after Trevor Bauer gave up a run and five hits in 7 2/3 innings of a 5-2 triumph over Cincinnati. The Reds have been outscored 54-19 during an eight-game losing streak, their longest since 2009.
— Evan Gattis hit a solo homer and Preston Tucker added a three-run shot, both coming in a four-run sixth that helped Houston beat Detroit 10-8 and earn a four-game split. Jason Castro delivered a tiebreaking, two-run single in the eighth as the Astros won after trailing 7-3 heading into the sixth.
— Martin Prado hit a solo homer and drove in two runs while the Marlins were building a 5-0 lead by the fifth inning of a 5-2 triumph against Baltimore. Marcell Ozuna hit a two-run single and Tom Koehler gave up one run and three hits over 6 1/3 innings of the Marlins' second straight win since an eight-game skid.
— Bryce Harper leads the National League with 41 RBIs after getting two more in Washington's 4-1 verdict over Philadelphia. Gio Gonzalez gave up a run with seven strikeouts in 6 1/3 innings as the Nationals wrapped up their eighth straight series victory.
— Boston was a 6-1 winner over the Angels behind Wade Miley, who held Los Angeles to a run and four hits in eight innings. Mike Napoli contributed a two-run homer and a two-run double in the Red Sox's second consecutive win.
— Rookie Mike Foltynewicz pitched three-hit ball over a season-high 7 2-3 innings to lead Atlanta's 2-1 win over the Brewers. The game was scoreless in the sixth until A.J. Pierzynski hit an RBI grounder and Andrelton Simmons lined an RBI single, allowing the Braves to move a game over .500 for the first time since April 27.
— Oakland thumped Tampa Bay 7-2 as Sonny Gray scattered four hits in five shutout innings before leaving with a bruised right ankle. Billy Burns, Mark Canha and Josh Reddick homered to back Gray, who was forced from the game one inning after he was hit on the lower leg by a comebacker in the fourth.
— Francisco Liriano struck out 12 in six innings as Pittsburgh crushed the New York Mets 9-1 to complete a three-game sweep. Starling Marte hit a three-run homer and Andrew McCutcheon cracked a two-run shot for the Pirates, who outscored the Mets 21-4 in the series.
— Brian Dozier homered twice and drove in four runs as the Twins hammered the White Sox 8-1. Winning pitcher Kyle Gibson tied a career high with eight strikeouts and allowed a run and four hits in eight innings.
— Arizona nipped the Chicago Cubs 4-3 as Paul Goldschmidt hit a two-run homer and had three RBIs. Jeremy Hellickson drove in the Diamondbacks' other run with a sacrifice fly and gave up three runs and just four hits in 6 2/3 innings.
— Justin Upton began his six-RBI afternoon by belting a grand slam in the first inning of San Diego's 11-3 laugher against the Dodgers in Los Angeles. Will Venable had four hits and scored three times to back Scot Shields, who is 6-0 after limiting the Dodgers to three runs and five hits in seven innings.
— Nolan Arenado was 4-for-5 with a three-run homer, four RBIs and three runs scored as Colorado ripped San Francisco 11-1. Chad Bettis carried a shutout into the ninth and allowed two runs with seven strikeouts in 8 1/3 innings.
— Adam Rosales hit a two-run homer and Prince Fielder drove in a pair with a double and a single as Texas dealt the New York Yankees their 10th loss in 11 games, 5-2. Yovani Gallardo struck out six while allowing two runs and four hits in six innings.
CLEVELAND (AP) — The Indians have activated catcher Yan Gomes (yahn gohmz) from the 15-day disabled list. He's been out since April 11 with a sprained right knee suffered when he tagged out a player at the plate.
He is batting .125 in six games this season after hitting .278 with 21 homers and 74 RBIs last year.
BOSTON (AP) — The Red Sox have placed right fielder Shane Victorino on the 15-day disabled list with a tight left calf. Victorino left Saturday's 8-3 win over the Angels with the tight calf that caused him to miss the previous two games.
Victorino landed on the DL at the end of April with a strained right hamstring.
PARIS (AP) — Roger Federer was a winner during Day 1 of the French Open, but his toughest opponent was tournament security.
The second-seeded Federer was in the middle of his 6-3, 6-3, 6-4 win over Alejandro Falla when a spectator ran onto the court to take a "selfie" with the 17-time Grand Slam winner. Federer was taken aback by the intrusion, motioning to authorities and saying afterward, "I am not happy about it."
Other winners on the men's side include fifth seed Kei Nishikori, eighth seed Stan Wawrinka and No. 14 Jo-Wilfried Tsonga. No. 25 Ivo Karlovic was the lone men's seed to fall on Sunday.
Third seed Simona Halep, seventh seed Ana Ivanovic and No. 9 Ekaterina Makarova advanced to the second round in the women's draw.
FORT WORTH, Texas (AP) — Chris Kirk followed a hooked tee shot on 18 with a par-saving, 7-foot putt to win the Colonial by one stroke over Masters champ Jordan Spieth  and two others.
Kirk shot a 4-under 66 for a 12-under total in his fourth PGA Tour victory.
Spieth closed with a 65 that included a 20-foot birdie putt at the closing hole to match Brandt Snedeker and Jason Bohn (bahn) at minus-11. Snedeker had a chance to force a playoff until his birdie try on 18 slid past the hole.
Bohn fired a 63 that included six consecutive birdies on the front nine.
FRENCH LICK, Ind. (AP) — Colin Montgomerie is the Senior PGA Championship winner for the second straight year, closing with a 3-under 69 for an 8-under total.
Montgomerie answered a pair of front-nine challenges with birdies and won for the third time in the last six senior major championships.
Esteban Toledo twice pulled within a shot on the front nine but couldn't keep up. Toledo shot a 69 to finish second at minus-4. Woody Austin was another shot back after a 69.