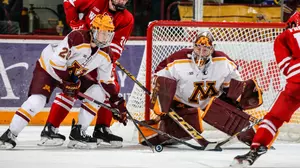 Bruce Kluckhohn
Minneapolis (GopherSports.com) – For just the second time this season, the Gophers fell at 3M Arena at Mariucci on Saturday night, coming up just short in a 3-2 battle with No. 14 Wisconsin.
The loss snapped Minnesota's home winning streak at eight games.
Minnesota (10-7-1 overall, 4-5-1-1- Big Ten) picked up goals from Casey Mittelstadt and Jack Sadek while Steve Johnson added a pair of assists for his first multi-point performance of the season.
The two teams traded goals in the first and second periods, but a bad bounce in the third period gave the victory to the visitors when Trent Frederic notched the deciding goal at 10:40 for the Badgers (10-7-2, 4-3-1-0).
Mittelstadt struck first for the home squad just 3:01 into the contest for his fifth of the year during a Minnesota power play. After an early chance was waved off due to a quick whistle, the rookie found the net off a feed from Johnson and Rem Pitlick. Wisconsin answered the bell at 12:25 of the first with a goal from Matthew Freytag. Sadek fired home his first goal of the year at 2:26 of the second period off a set up from Brent Gates Jr. and Johnson, but the Badgers again answered with Seamus Malone scoring a 8:46.
After Frederick's eventual deciding goal in the third, the Gophers rallied off chance after chance but couldn't find the equalizer despite outshooting the visitors 20-10 in the final frame. Minnesota held a 42-32 edge on the night in shots.
Eric Schierhorn made 29 saves in net for the Gophers in his 92nd-consecutive start for the Maroon & Gold.
Minnesota closes out the first half next weekend with a Big Ten series at Ohio State. Single-game tickets, season tickets and flexible Pick-Your-Packs are currently available at GopherSports.com, by calling 1-800-U-Gopher or by stopping by the ticket office at 3M Arena at Mariucci.