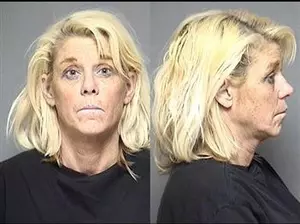 Citizen Traffic Stop Leads to Arrest of Rochester Woman
Olmsted County Adult Detention Center photo
Rochester, MN (KROC-AM News) - A Rochester woman was arrested early today after a citizen convinced her to stop and he grabbed the keys out of the ignition in her car. Olmsted County Sheriff's Captain Scott Behrns says the citizen intervened after he came upon her driving in the wrong direction on North Broadway just north of the city in Cascade Township.
When Olmsted County deputies arrived at the scene around 12:15 am, they found 55-year-old Susan Kirckof sitting in the car, which was parked in the southbound lane facing to the north. Captain Behrns says the deputies determined she was likely under the influence of something other than alcohol and obtained a warrant for a blood draw.
Kirckof was brought to jail and held on suspicion of DUI and driving after revocation. Court records show she was convicted of driving after revocation earlier this year and spent a month in jail and was placed on probation after she was convicted of a gross misdemeanor criminal vehicular operation charge in 2014.