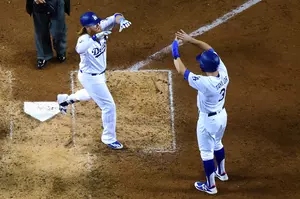 Dodgers Win World Series Opener in Record Heat
Getty Images
LOS ANGELES (AP) — Clayton Kershaw and the Los Angeles Dodgers have opened the World Series with a victory over the Houston Astros.
Kershaw tossed seven stellar innings and Justin Turner launched a tiebreaking homer in a 3-1 win against the visiting Astros. The three-time Cy Young Award winner struck out 11 and allowed only three hits, including Alex Bregman's game-tying homer in the fourth inning.
L.A. took a very early lead as Chris Taylor homered on the first pitch thrown by losing pitcher Dallas Keuchel (KY'-kul). Taylor became the first player to homer in his first career World Series at-bat since teammate Chase Utley did it for the 2008 Phillies.
Bregman knotted the score three innings later but the Dodgers regained the lead on a two-run blast by the red-hot Turner in the sixth. Turner entered the series batting .387 with three home runs and 12 RBIs in 31 at-bats during the postseason.
Keuchel was reached for three runs and six hits over 6 2/3 innings.
Kenley Jansen worked the ninth to pick up the save.
The Astros are now 0-5 in World Series games, having been swept by the Chicago White Sox in their only other appearance 12 years ago.
Game 2 is Wednesday at Dodger Stadium. Rich Hill will start for the home team against Justin Verlander, who has won all nine of his appearances since being acquired by Houston on Aug. 31.
The 103-degree temperature at first pitch is believed to be the warmest in World Series history dating to 1975. That shattered the previous high of 94 degrees for the opener of the 2001 Diamondbacks-Yankees series in Arizona.
Corey Seager and pitcher Brandon McCarthy are on the Dodgers' World Series roster after being held out of the championship series. Manager Dave Roberts made room by dropping outfielder Curtis Granderson and backup catcher Kyle Farmer.
The Astros stayed with the roster they used to knock out the Yankees in the AL Championship Series.