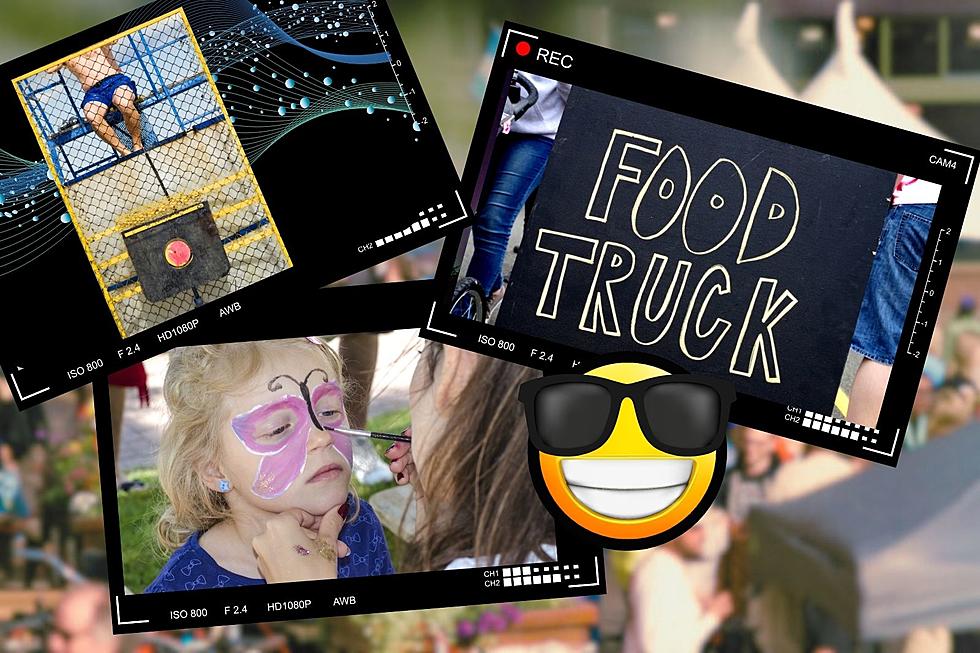 UPDATE: Everything You Need to Know About Fund Fest in Southeast Minnesota
ThinkStock/Canva
UPDATE: Although everything is ready to go for this huge event in Rochester, Minnesota, Mother Nature decided to also join the party.  The weather is calling for a big amount of rain on Sunday in parts of Southeast Minnesota and since food trucks, dunk tanks, and games in the rain aren't usually a hit in the rain, The Landing MN has canceled their Fund Fest event.
If you love watching people get dunked in a tank, enjoy grabbing a bite to eat at a food truck, well those are just a few of the fun activities happening at the 1st ever Fund Fest in Southeast Minnesota.  Stick August 6th on your calendar and plan on having an amazing time at this family-friendly event in Rochester, Minnesota.
Everything you need to know about the First-Ever Fund Fest in Southeast Minnesota
One of my favorite things to see at the Iowa State Fair is the husband-calling contest.  I grew up in Iowa and visited the fair often and if you can't make it down to Des Moines this year to see it, don't worry, it's also happening here in Rochester on August 6th at Fund Fest!  That's just one of the fun parts of Fund Fest though.  Here are a few other activities happening that day too:
🍴FOOD TRUCKS 🍴 including:

MinneSNOda Shave Ice,
Trail Creek Coffee Roasters and
Taco JED

🎶 MUSIC 🎶 from Townsquare Media
📅 EVENTS 📅 including:

Spouse Calling Contest
Fill the Pool Coin Challenge
💦 DUNK TANK 💦
 ⭐️ OTHER ACTIVITIES ⭐️

Face Painting
Yard Games
The Landing MN Temporary Tattoos
Merch Pop-up
Why YOU Should Attend Fund Fest in Southeast Minnesota
I know that there have been a lot of discussions lately about those experiencing homelessness in the Rochester community.  I can see the frustration that people have but also a huge misunderstanding on how many people truly are in the Rochester area that are in need.  I feel like you should see the numbers of how many people are actually being served in our area.
Just last week, I got the following info from The Landing MN in regards to how many people they are seeing on a regular basis.
Unique Monthly Day Center Guests

January 2023 = 257 individuals
June 2023 = 378 individuals
Total Monthly Day Center Visits

January 2023 = 1,857 individuals
February 2023 = 1,962 individuals
March 2023 = 2,297 individuals
April 2023 = 2,747 individuals
May 2023 = 2,921 individuals
June 2023 = 3,123 individuals
It's not just the numbers though that seem to be misunderstood.  We also have many individuals who think "just getting a job" will solve our homeless population or making assumptions of what is happening in the facilities working with those experiencing homelessness.
Here's my suggestion for you:  If you have ideas on how to fix the "homelessness issue" in our community, great!  But before you write a letter to the editor, post on social media about what needs to be done, or have side conversations with others about your frustration with the tents around town and individuals sitting in bike lanes or on corners, I am encouraging you to do this...go take a tour of The Landing MN.  If you don't want to visit this organization, go physically tour The Salvation Army's Day Center or visit The Warming Shelter.  Go have a conversation with the organizations and individuals that are on the ground every day working with this population and take a tour of the facilities that are open to help those in need.
Go be in the spaces and see what is being done now and ask your questions.  You are more than welcome to share your thoughts in person with those working one-on-one to help each individual experiencing homelessness.
If you've been invited to tour the facilities, please actually go visit this week.  If you've never been invited, consider this your invitation.  If you'd like a tour, I can help make those connections happen for The Landing MN and would be happy to help - just send me an e-mail at jessica.williams@townsquaremedia.com.
Do you have an event coming up in Southeast Minnesota?
Every year, we help the community in a variety of ways from supporting local fundraisers, to running daily public service messages, to creating digital community campaigns and hosting events attended by thousands. Learn more about how Townsquare Media Cares here.
If you have an event coming up or work for a nonprofit in Southeast Minnesota, I'd love to learn more! Send me a note at jessica.williams@townsquaremedia.com or on my Facebook page - Jessica On The Radio.
Top spots in Rochester with amazing customer service!
Not sure if this is a priority for you but the majority of people like to see a little bit of R-E-S-P-E-C-T when they are buying things from a business. It could be ordering food at a restaurant, buying clothes at a store, or where you are filling up your gas tank for your car. Any place you spend money should have stellar customer service. If you've had a run of bad customer service lately, try going to one of these places in Rochester that were recommended by hundreds of people in town.
This list was put together last year, so, if individuals are mentioned at these places, they may no longer be there. But, at one point, they were considered THE BEST for customer service in our area.