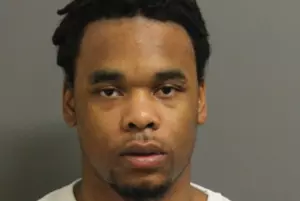 Imprisoned Stewartville Man Admits to Rochester Home Invasion
Minnesota Dept. of Corrections photo
Rochester, MN (KROC-AM News) - A Stewartville man serving a prison sentence stemming from a fatal drug overdose has admitted to a first-degree burglary charge for his involvement in a violent home invasion in Rochester.
20-year-old Donte Wilkins and three other young men were accused of forcing their way into an apartment near the Rochester Community and Technical College campus back in March. Police reports say a fight broke out between the intruders and the occupants of the residence, who were eventually ordered to get on the floor at gunpoint. Police reports stated the intruders were apparently looking for someone who was involved in an earlier incident.
One of the other defendants in the case was allowed to plead guilty to a gross misdemeanor charge and was sentenced to probation, while the cases against two other men are still pending.
Wilkins is currently serving a five-year prison sentence for a manslaughter conviction connected to a heroin overdose last December that took the life of a Dodge Center man. He is scheduled to be sentenced in the home invasion case tomorrow.
With updates at the top and bottom of the hour 24 hours a day, Tune in to Newstalk 1340 KROC-AM for the latest local and national news.