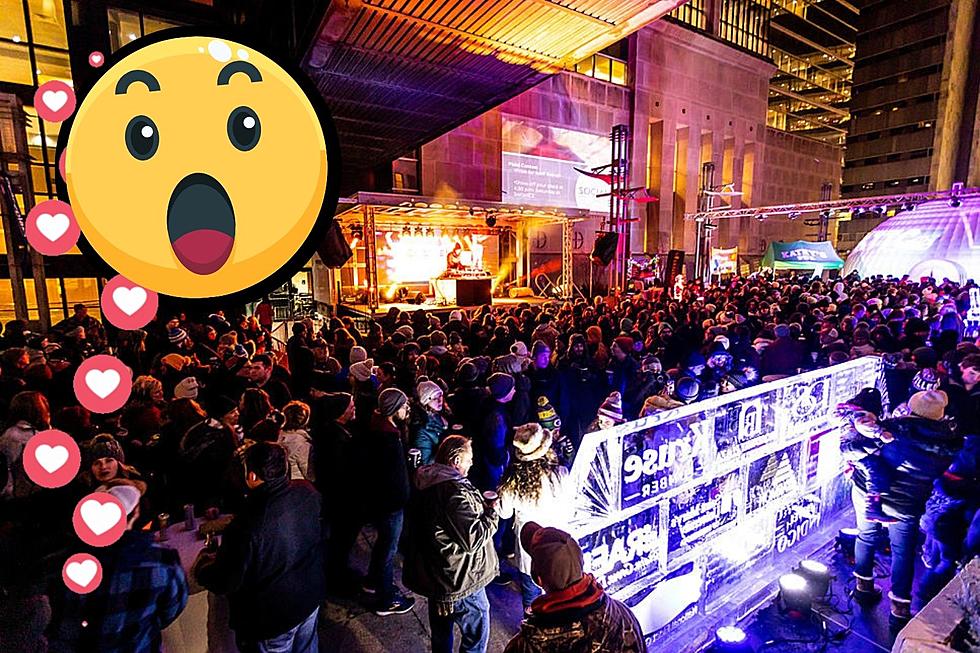 MASSIVE! 42,000+ People Partied in Rochester at Social-ICE
Rochester Downtown Alliance/Canva
Remember that week in Minnesota when we got about 13 inches of snow?  One town in our state got dumped on too and had 21 inches.  I can't even imagine shoveling that!  After that storm hit, a huge party happened in downtown Rochester with ice bars, live music, a huge igloo, and a fun day for kids.  The number of people that showed up for the weekend is massive!  Everyone must have gotten a raise lately too because the amount of money it generated for downtown businesses is even more impressive.
READ MORE:  New Restaurant Now Open in Old Dooley's Location in Rochester
Social-ICE Helped Create an Economic Impact of Over $1.5 Million in Downtown Rochester, Minnesota
In Minnesota, there is a moment we all start to get a little stir-crazy and we just want something fun to do.  This is also a time frame that businesses notice a drop in business because we are all stuck inside our homes and after a huge storm, we really just want to sit on our couches and watch Netflix.  If it wasn't for Social-ICE in Rochester, a bunch of us would have probably stayed inside on February 24th and 25th too.  But, we didn't.  In fact, over 42,000 people showed up in downtown Rochester for the massive event that is a top favorite in town.
"We are thrilled with the success of Social-ICE and FAM JAM and thank everyone who came together to celebrate winter.  We met our goals of having a fun-for-all-ages winter party and driving more business during the challenging winter season for Rochester's great downtown bars and restaurants." - Kathleen Harrington, Rochester Downtown Alliance interim executive director
A few fun facts about Social-ICE in Rochester, Minnesota:
Social-ICE took a two-year hiatus during the pandemic.  2023 was the first year back since 2020.
In 2023, approximately 42,594 people attended this two-day event.
In 2020, about 67,500 people attended Social-ICE.  At that point, the event was a three-day event but according to the Downtown Alliance, the crowd size was similar, it was just minus one day.
An estimated $1.536 million economic impact was sparked for downtown Rochester during the event.
"As one of the few winter events available to downtown businesses, Social-ICE is something we look forward to participating in as a vendor. Thanks to the success of this year's event with popular programming and the incredible hard work of RDA staff, we doubled our projected sales as compared to previous Social-ICE events.  Winter is a difficult time for businesses that rely on favorable weather to sustain foot traffic. This event accounted for five percent of our month's revenue and made a huge impact on our ability to sustain ourselves through winter." - Will Forsman of Café Steam
If you attended FAM JAM with your kiddos, you might have run into our favorite Great Dane, #MinnesotaMoose!
More Events Happening in Downtown Rochester in 2023
If you are newbie to Rochester, you need to get familiar with two words, "Thursdays Downtown".  If you had a chance to be part of Social-ICE, it is similar but without the freezing cold temps.  In fact, you may need to grab a drink on a few of the days just to cool off.  But there is live music, TONS of vendors, and a whole lot of people that are out to enjoy the 2 stages set up in downtown Rochester.
Thursdays Downtown happens several times throughout the summer but it is just one of the many events you'll enjoy in 2023.  Check out the full list below.
Full List of Downtown Rochester Events for 2023