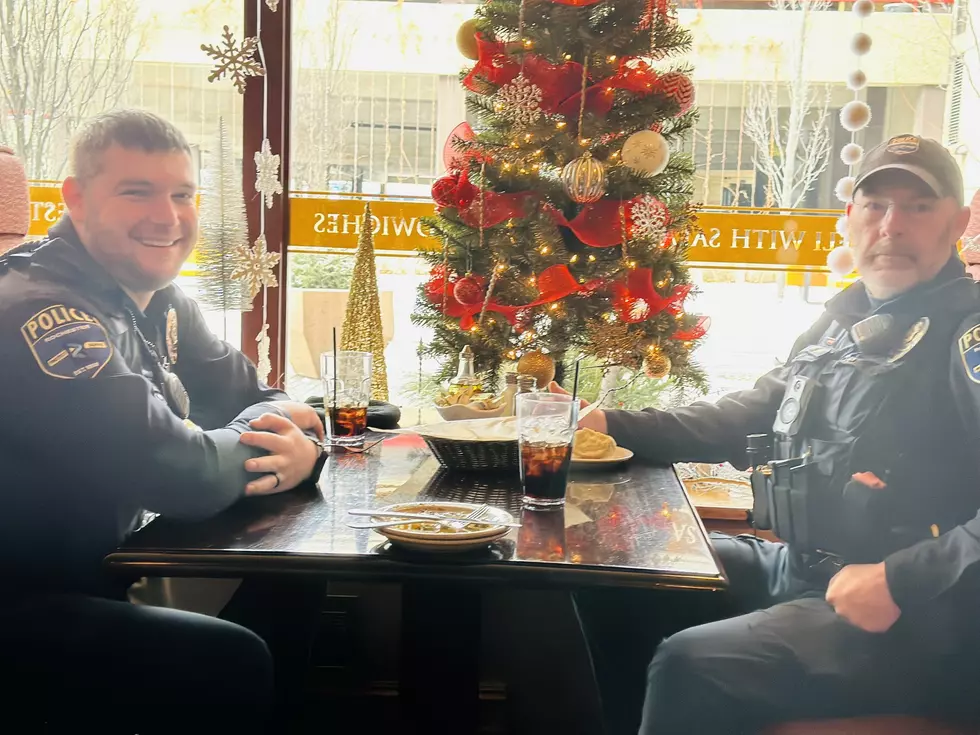 Minnesota Restaurant – Thank You & Goodbye to RPD Officer Who Made Things Better
CREDIT: Victoria's
Once you live in Rochester, Minnesota long enough you realize it's one of the biggest small towns in the USA. And this note of gratitude from Victoria's Ristorante & Wine Bar to an officer from the Rochester Police Department (RPD) is a reminder of that.
Victoria's Says Goodbye to A Friend, Protector, and Good Guy
In a post on Facebook, Natalie Victoria wrote about RPD Officer Alex Ziemann leaving Downtown Rochester.
Everything has a beginning... and an end. And today was an end for Officer Alex Ziemann's post as a Downtown Resource Officer. He and his partner, Officer Swanson joined us for lunch together one last time.

Alex will be going to the training division for 12 weeks, and then back to patrol...as a Field Training Officer for new hires. Fortunately, he will stay in Rochester!

Downtown will miss you, Alex. Your calm demeanor, kind smile, humble presence, quick response and helpful nature make your shoes big to fill. We will miss our weekly afternoon "check-ins" with you and Officer Swanson, but look forward to meeting your replacement.(( and thankful Officer Swanson will be staying))

This Is Rochester
She's right...and this is the Rochester I know. The small town where you can have lunch with a friend and 8 friends you haven't seen in forever are suddenly right next to you at Hy-Vee talking about how they heard you had lunch with so and so.
Why This Note to Officer Alex Ziemann Matters
I reached out to Natalie and asked if she could pass on a story about Officer Ziemann. She said,
While I can't think of a specific story…I will attest to the benefit of their presence. Downtown can have some challenges, and knowing we have support and help is a huge comfort. They have also become experts in giving directions to Mayo patients and guests:)
It's important for officers to be visible because it helps deter crime. Not just because people seeing the police deters crime, but because it creates a connection between the general public and the police. When we all know each other, we all walk a little taller, act a little kinder, and know who to ask for help.
Thanks for posting this on Social Media, Victoria's...and thank you Rochester police and RPD Officer Alex Ziemann. it's Friday (a Feel Good Friday at Townsquare Media - Rochester), and this sure feels good.
A few steps east and you hit Wisconsin, where there's always something a little unusual to see.
A Tree is Growing in the Middle of this Beautifully Unique Wisconsin Home
A home for sale in Racine, WI is incredibly unique, it would be a fun house to work on, and there's also a treeing growing on the inside.
As always, if you have a comment, complaint, or concern about something I wrote here, please let me know: james.rabe@townsquaremedia.com
LOOK: The most extreme temperatures in the history of every state
Stacker
consulted 2021 data from the
NOAA's State Climate Extremes Committee (SCEC)
to illustrate the hottest and coldest temperatures ever recorded in each state. Each slide also reveals the all-time highest 24-hour precipitation record and all-time highest 24-hour snowfall.
Keep reading to find out individual state records in alphabetical order.
The Most Anticipated Movies of 2023`
Here are 20 of the biggest and most exciting titles coming to theaters in 2023.