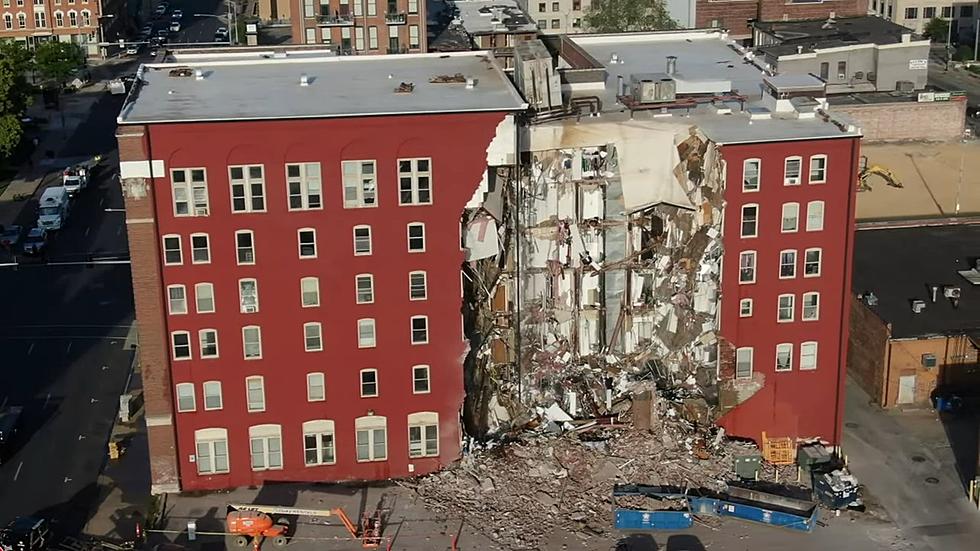 New Video Shows Davenport Building in Minutes Before Collapse [WATCH]
WQAD News 8, YouTube
In the minutes leading up to the partial collapse of a downtown Davenport, Iowa apartment building last weekend, there were visible signs something was about to happen.
The video below is drone footage of the 6-story apartment building from earlier this week. It provides a better look at the devastation done to the building late in the afternoon of Sunday, May 28.
Between 45 and 50 members of Iowa Task Force One, with divisions in both Cedar Rapids and Sioux City, are at the Davenport site. They continue to remove debris in what is now, unfortunately, a recovery mission.
Three people are still believed to be in the portion of the building that collapsed. They are Branden Colvin, Ryan Hitchcock, & Daniel Prien.
A new surveillance video from a nearby building shows nearly 10 minutes of footage before the partial collapse. In the video, you can see parts of the building begin to crumble. In the final minute before the collapse, you can see five different times that something is happening. As has been widely reported, the video cuts off due to power going out as the collapse takes place.
According to the Quad-City Times, Tony Behncke, operations manager for the Downtown Davenport Partnership, called 911 at 2:46 p.m. Saturday afternoon. He asked if the Davenport Fire Department could look at the building after receiving a call from one of his employees who was cleaning up around it. The worker had called Behncke after a contractor not involved in the repair work of the building told the employee that it appeared to him the wall was "bulging out."
The Quad-City Times reports the Davenport Fire Department was on the scene at 2:51 p.m. They left four minutes later. Just over twenty six hours later, the building partially collapsed.
LOOK: Highest-rated free things to do in Iowa, according to Tripadvisor
LOOK: Most commonly seen birds in Iowa
Stacker
compiled a list of the most common birds seen in Iowa from Project FeederWatch.