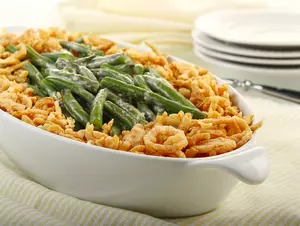 The Creator of Minnesota's Favorite Thanksgiving Dish has Died
adlifemarketing
With her flair for Midwestern cooking, you'd think Dorcas Reilly was born right here in Minnesota. Her common delicious yet frugal masterpiece touched hearts and tummies nationwide but was especially popular here.
But she wasn't born in the land that loved her Green Bean Casserole recipe, she was born Dorcas Lillian Bates on July 22, 1926, in Woodbury, N.J. (at least she has one of our suburbs in her past). I remember interviews with her over the years and how she'd say she was born into a family of cooks, so working for the Campbell Company's test kitchen was a natural fit.
The Green Bean Casserole was invented in 1955 (tho at first she called it Green Bean Bake). She's also responsible for one of my all-time favorites, the Tuna Noodle Casserole, and the Sloppy Joe!
Rest in peace, Mrs. Reilly. You'll not be forgotten, and this November, you'll be thanked like never before.
Listen to James Rabe 6a to 10a on Y-105 FM