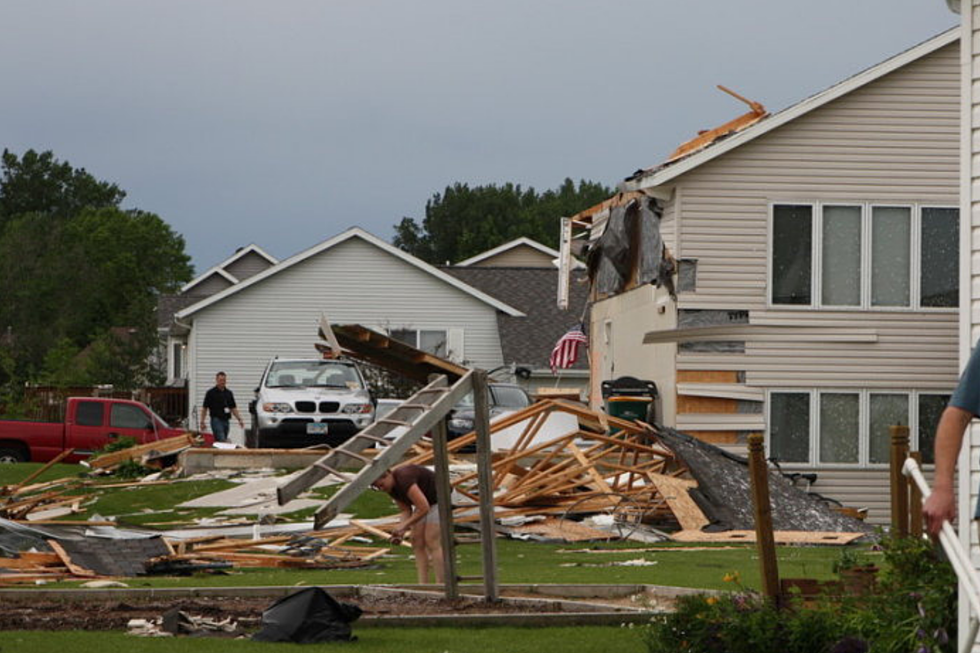 The Tornado That Hit Rochester In June 2010…And The Glitch
Rochester tornado June 2010 - Jessica Williams TSM Rochester
Do you remember the storm that hit Rochester 9 years ago?  I was out of the country when I saw on Facebook that a tornado hit a neighborhood very close to mine in NW Rochester.  My heart sunk and fear set in as I started to see the photos pop up and waited for our neighbors to let us know if our home was safe.
June 17th, 2010 - Another tornado struck northwest Rochester, MN around 9:00 p.m. CDT as the thunderstorms transitioned into a line of damaging wind.  The tornado, rated an EF1 on the Enhanced Fujita Scale, produced intermittent damage starting near 50th Ave NW and traveled northeast behind the Wal-Mart shopping center near 55th Street NW.  It tracked across Highway 52 and hit a Menards building before continuing northeast and dissipating a few minutes later.  The path length of the tornado was around 2 miles long with a maximum width of 150 yards.  This was the first tornado to hit the city of Rochester since 1995.- www.weather.gov
Cleanup already started once we were home but we saw the power of Mother Nature as we walked and drove around the neighborhoods that were hit.  Roofs were gone on homes, garages destroyed, and the roof on the old Menards building on Hwy 52 was not in good shape.  So thankful that no one was badly hurt in Rochester, especially since I heard that there was a bit of a glitch that happened with our sirens.
We didn't realize all the damage until a neighbor knocked on our door to see if we were ok. We scrambled to the basement when we heard a series of loud booms. Very lucky. I didn't realize the sirens didn't go off because of a computer glitch. Scary!!! - Resident in the neighborhood that was hit.
I don't have many photos from that day but here are a few links with some memories and photos: