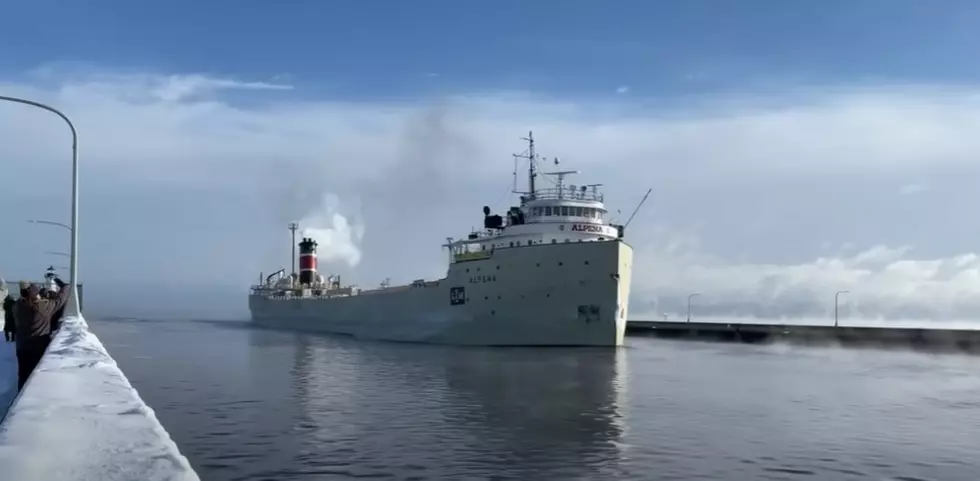 This 81 Year Old Ship Still Operates On Great Lakes Between Minnesota, Wisconsin + Illinois
Vibe With Mike via YouTube
I couldn't help but notice that one of my favorite local YouTubers posted a video of a laker coming in under the lift bridge. It was posted in December, and it already has over 200,000 views. That's by far way more than any other content coming out of Duluth, Minnesota in recent months. What's the big deal?
So I looked up some information on this ship and found out it's pretty historic! It's the SS Alpena. It was built back in 1942, making it 81 years old. Here's the kicker, it's still operating and is the oldest steam-operated ship operating on the Great Lakes.
The ship was originally an iron ore carrier that went by the name of SS Leon Fraser. It carried iron ore from Duluth Harbor to steel production places in Chicago and Ohio. The ship was built with others during World War II to help with the war effort and steel production.
It continued in various roles for another 40 years hauling ore, grain, and some other freight. It was put away in storage by US Steel in 1982. But, soon she would come back to life in a different role and configuration.
In 1989 the ship was purchased by Frasier Shipyards in Superior, Wisconsin. It was retrofitted, cutting out a span of its midsection to shorten the ship. The next year it was purchased by New Management Enterprises and was put into service to carry cement between Alpena, Michigan to other cement ports on the Great Lakes.
To get an idea of how crazy it is that this ship is still operating, keep this nugget in mind. The William A. Irvin is now a museum, and it was built just 4 years after the Alpena. Also, the Alpena just had a five-year inspection last year and had a new coat of paint to go on. There appear to be no plans on putting the ship away.
It's also older than one of the most famous ships, the Edmund Fitzgerald which was built in 1958.
The Alpena can be seen in the Twin Ports periodically as it brings cement to the Lafarge Cement Plant in Superior, Wisconsin.