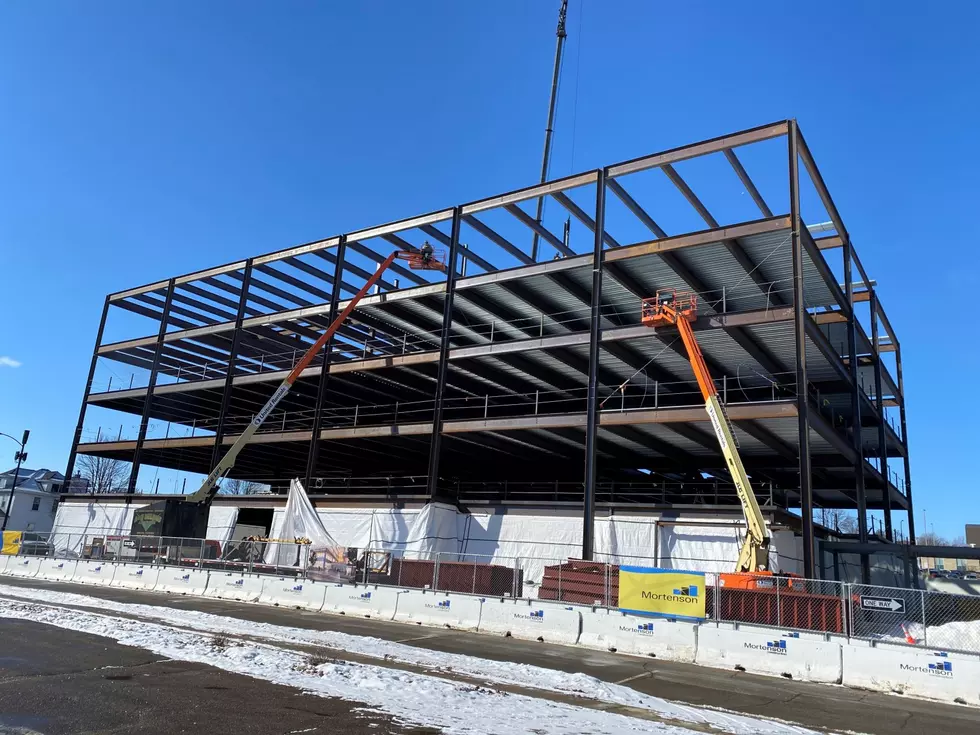 Two Discovery Square Building in Downtown Rochester Scheduled For "Topping Off" Today
LL/TSM Roch
Rochester, MN (KROC-AM News) - Today marks a milestone day for the construction of the Two Discovery Square Building in downtown Rochester.
Construction crews and community leaders are celebrating the ceremonial steel "topping off" of Two Discovery Square, its second building in the Destination Medical Center Discovery Square sub-district. The steel topping off is a major milestone celebrated when the highest or last steel beam is placed in a building under construction. A beam signing and placement of the beam in Two Discovery Square are planned for today.
According to a press release, the building is designed to help foster life science research and innovation. The project is scheduled to open in mid-2022.
The new building is adjacent to One Discovery Square and the two buildings will have a physical link for tenants. Designed by RSP Architects, Two Discovery Square shares the goal of providing an authentic urban experience that supports a unique environment for community amenities, collaborative culture and a one-of-a-kind innovative ecosystem.
Construction on the project started back on September 18th of 2020.
Rochester Mayor Kim Norton; DMC EDA Executive Director Patrick Seeb; Dr. Clark Otley, Mayo Clinic; David Mortenson from M. A. Mortenson Company and others are expected to be at a private event this afternoon at 4 p.m. in celebration of this milestone.
The photo below is of the project site from an aerial perspective taken from the Townsquare Media Rochester tower cam on March 1st.
Below you can check out activities that are planned in Rochester for 2021.
LOOK: Downtown Rochester Activities Planned For 2021
Rochester Downtown Alliance are currently planning Rochester's favorite summer events and are hopeful that crowds can return for the later half for 2021 during Thursdays Downtown. While we wait for the official news, check out the list of planned events for downtown Rochester.