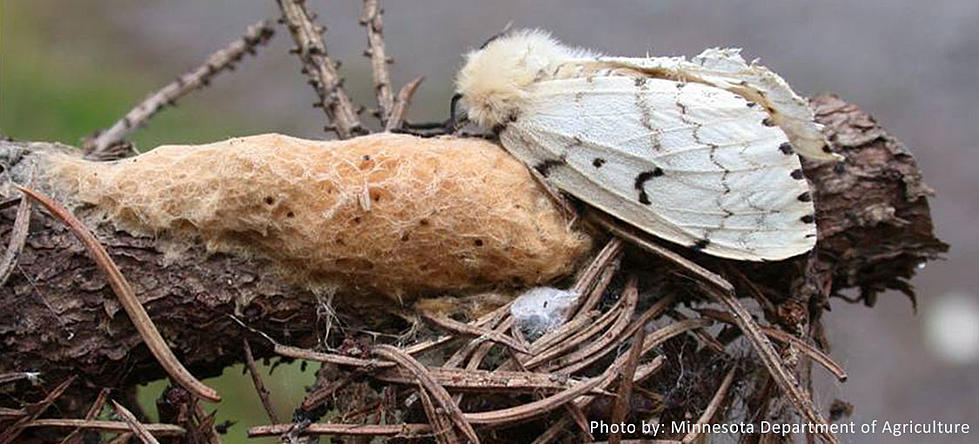 Why This Invasive Species Now Has a New, Less Offensive Name in Minnesota
Minnesota Dept of Agriculture (via MN DNR)
This invasive pest that's been causing problems in Minnesota for nearly 50 years is now sporting a new, less offensive name.
What we've formerly called the 'gypsy moth' is an invasive species here in Minnesota that the Department of Natural Resources (DNR) has been trying to control since the early 70s. The DNR says it feeds on more than 300 species of deciduous trees and shrubs, including aspen, oak, and birch. Infestations of the moth remove the leaves on suspect trees which leave them vulnerable to disease and can even kill them.
But the 'gypsy moth' is no longer being referred to by that term. The DNR noted last year it was following the lead of the Entomological Society of America (ESA) and had discontinued the use of the term 'gypsy moth' as the common name for Lymantria dispar (the Latin name the DNR said it would temporarily use instead.)
So why is it being replaced? The ESA said it's because the term 'gypsy moth' contains a derogatory term for the Romani people of northern India. So now, in the latest Common Names of Insects and Related Organisms List, the ESA said that the new name for Lymantria dispar will be 'spongy moth.'
The ESA said the new name (which refers to the sponge-like egg masses the moth produces) was chosen from more than 200 nominations evaluated by a group of more than 50 scientists. The ESA said it "sought insight from many experts and organizations and collected more than 1,000 responses about seven finalist names," the ESA said in a release.
So, don't call it a 'gypsy moth' anymore in Minnesota-- it's now the 'spongy moth.' And, forget insects, when it comes to naughty-sounding names, the following cities and towns in here Minnesota are at the top of the list, as are some of Minnesota's toughest-to-pronounce lake names. Keep scrolling to see how many you know!
Listen to Curt St. John in the Morning
weekdays from 6 to 10 a.m. on Quick Country 96.5
Oh Boy! The 10 Most Naughty-Sounding Town Names in Minnesota
SAY WHAT? 20 of the Hardest Lake Names to Pronounce in Minnesota