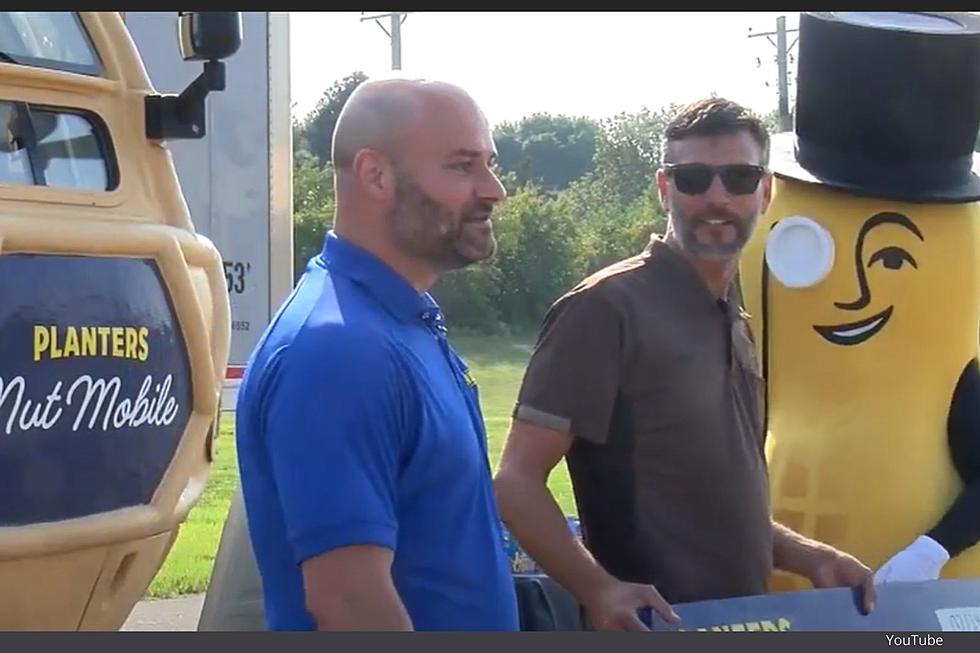 $10,000 Prize Just Awarded to Rochester UPS Driver Caught on Camera Jumping Around
YouTube
The Rochester, Minnesota UPS Driver that was caught on camera jumping around just won $10,000!
Way back in March, this really amazing story happened that went a bit on the viral side, all because a guy in Minnesota was caught on camera jumping around while working for UPS.  Well, that guy just scored $10,000 from Planters.
Who is the UPS guy that was caught jumping around?
His name is Jason Gruhlke and he is one of the many amazing UPS drivers that are working hard every day to deliver our packages.  He's a dad too and that's why when he saw the hopscotch on the driveway with the kids nearby, he just had to take a few jumps as he went back to his truck.  Who knew that those few jumps would lead to an amazing cash gift of $10,000.
If you missed the interview that Jason did with us on Y-105FM, go ahead and check it out below and hear how he was handling the fame, a bit about his life as a dad, and what he said about putting smiles on peoples' faces.
Jason is one of 5 Minnesotans who will be receiving the $10,000 gift from Planters
Not sure if you've heard but Plantars is moving to Minnesota.  They just joined up with Hormel, the Minnesota-based company that is located in Austin, Minnesota.  According to their website, as part of its promotional campaign, "Mr. Peanut is distributing $5 million nationally, mostly in the form of $10,000 "Little Acts of Substance" checks to nonprofits and individuals involved in charitable acts."  The company will be handing out a total of 10 checks in Minnesota.  5 of those will be going to nonprofits and 5 will be going to "Minnesotans who add substance to their community".
I didn't know that Jason was getting this amazing gift but if you missed this big moment like I did, take a second and watch the video that KAAL put together and hear how Jason will be spending the surprise gift of cash.
Do you know another good news story that should go viral?
I'd love to hear about it!  Let me know all the details by sending me a message to my Facebook page - Jessica On The Radio.
25 other people and companies in Rochester that showcase amazing customer service!
Although jumping around and playing hopscotch isn't typical for a UPS driver, that was amazing customer service that was caught on camera.  Check out these other 25 people and place in Rochester that were recommended as having the best of the best in town for their customers.  And, if someone is missing on this list that you think deserves recognition, find me on Facebook and let me know!  (I'll make it easy for you...click here to find me on Facebook)
Top spots in Rochester with amazing customer service!
Not sure if this is a priority for you but the majority of people like to see a little bit of R-E-S-P-E-C-T when they are buying things from a business. It could be ordering food at a restaurant, buying clothes at a store, or where you are filling up your gas tank for your car. Any place you spend money should have stellar customer service. If you've had a run of bad customer service lately, try going to one of these places in Rochester that were recommended by hundreds of people in town.
Listen to Jessica Williams weekdays from 6 am until 10 am on the Y-105FM Early Morning Show with James & Jessica
Top 10 Small Towns in the United States That You Actually Want To Live In
Realtor.com
has just announced its favorite picks for the top small towns in the United States. They might be small but according to them, these are not only affordable but places you'd actually want to live.