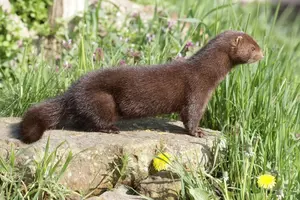 11,000 Mink From Minnesota Pelt Farm Found Alive
Thinkstock
Learfield Wire Services/TTWN Media Networks (St. Cloud, MN) -- More than one quarter of the mink stolen from a central Minnesota farm have been recovered alive.
Stearns County sheriff's officials gave new figures Friday afternoon, stating that eleven-thousand of the nearly 40-thousand mink taken from Daniel Lang's mink farm at Eden Lake are still living, while 15-thousand others were recovered dead and 14-thousand remain unaccounted for.
The mink were released last Sunday night or early Monday from Lang Farms. Tri-County Crimestoppers has announced a one-thousand dollar reward for information about the arrests and convictions of whoever stole the mink. Also, the national trade group Fur Commission U-S-A is offering a ten-thousand dollar reward.