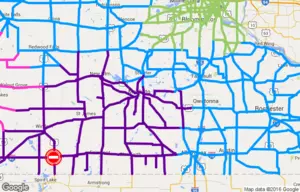 Blizzard Conditions in Parts of Southern Minnesota
from MNDOT
Rochester, MN (KROC-AM News) - Whiteout conditions were being reported Monday morning in parts of south central and southwestern Minnesota as very strong winds are slamming Minnesota.
Wind gusts have been clocked at 40-50 miles per hour. A blizzard warning was issued in an area from Mankato on the east to Marshall on the west and to the Iowa border. Although most roads remain open, MNDOT is advising against driving until conditions improve.  
East and west roads are being affected the most and this would include Highway 14 and I-90 from Albert Lea all the way to the South Dakota border. A section of I-90 in the Jackson area was closed at last check due to numerous traffic accidents.
Very cold air has moved into the state and will produce temperatures that will be well below normal all week.
The temperature at the Rochester airport rose to 37 degrees at 3 p.m. Sunday. It began falling after that, all the way to 17 degrees at midnight.