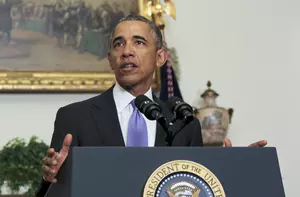 Obama Pardons Minnesota Drug Dealer Who Was Given Life Term
Getty Images
Washington, DC (Learfield Wire Services) -  A Minneapolis drug dealer who's been serving a life prison term will go free next June.
President Barack Obama has commuted the sentence of Sherman Meirovitz, who was given a life term in 1990 for possessing cocaine with the intent to sell it, plus a related conspiracy charge. It was a change of heart for Obama, who rejected the man's original request for clemency in 2011.
The 73-year-old Meirovitz was among 42 people who received presidential commutations.  Twenty had been sentenced to life in prison.
Obama has now commuted 348 sentences in his eight years, more than the last seven presidents combined.
The Huffington Post says the Democratic president has mainly tried to help those with drug offenses who were given long federal sentences disproportionate to others.