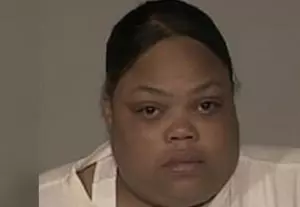 Woman Admits Killing Lover After He Knocked Out Her Tooth
photo from Anoka County Jail
ANOKA, Minn. (AP) — A Blaine woman has pleaded guilty to first-degree manslaughter for fatally stabbing her boyfriend after he knocked out her tooth last year.
Thirty-one-year-old Artiesha Love entered her plea Tuesday. Sentencing is set for May 10.
Defense attorney Joann Anton tells the Star Tribune that Love agreed to a six-year prison sentence. She calls Love "the definition of a battered woman."
Love told police on June 1 that 29-year-old Gregory Stallone Stewart showed up at her apartment drunk and the two got into a fight. She said he knocked out her front tooth and that she then stabbed him twice in front of one of her daughters.
Police say Love told her older daughter to clean up the blood and take out the trash, which had the knife in it.