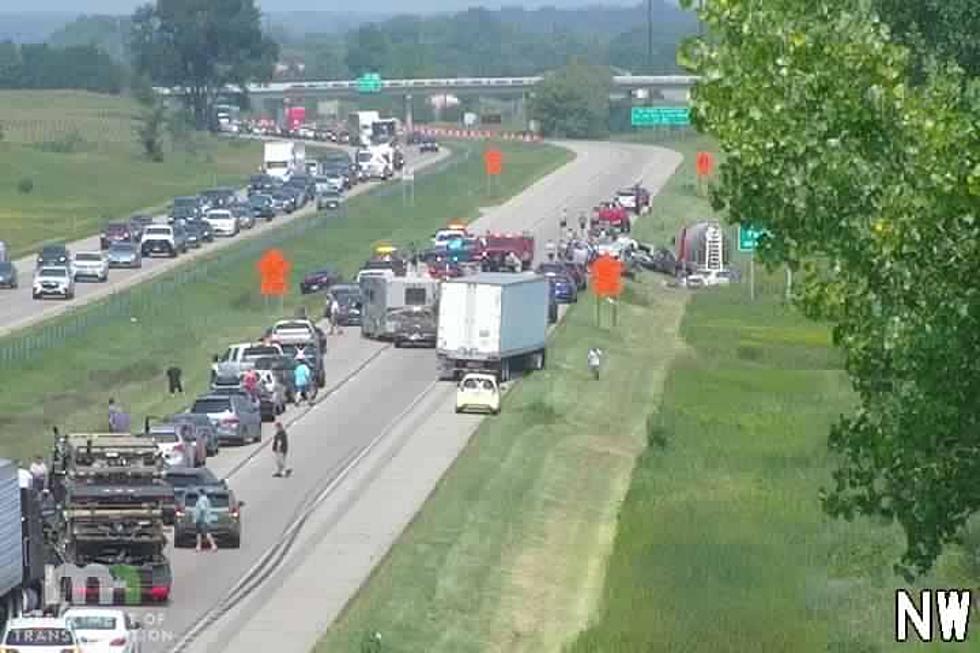 9 People Involved in 6-Vehicle Chain-Reaction Crash on I-35 in Southern Minnesota
MnDOT/Mn Crime X
Faribault, MN (KROC-AM News)- The State Patrol is responded to a chain-reaction crash that occurred along I-35 in Southern Minnesota Sunday afternoon. 
The state crash report says the crash occurred about two miles south of the southernmost Faribault exit. It happened around 12:20 p.m. 
Six vehicles, all traveling in the northbound lanes, were involved in the crash. It was triggered by an SUV and semi collision in the northbound lanes of the freeway, the state crash report says. 
The identities of the nine individuals involved in the crash have not yet been released. The State Patrol has disclosed the vehicles as well as the ages and hometowns on the people involved in the pile-up: 
Semi. Driven by a 54-year-old Fredericksburg, IA man. 

Chevy SUV. Driven by a 52-year-old Chaska woman with a 30-year-old female passenger from Forest Lake

Ford SUV. Driven by a 72-year-old Monmouth, IL woman

Honda car. Driven by a 69-year-old Kansas City, Mo man with a 72-year-old female passenger also from Kansas City

Volvo SUV. Driven by a 58-year-old man from Glenwood with a 60-year-old female passenger from Glenwood 

Ford SUV. Driven by a 30-year-old Burnsville woman
The Rice County Sheriff's Office, Faribault Fire Department and North Ambulance. The State Patrol plans to release the names and conditions of the individuals involved in the pile-up Monday night. 
LOOK: Counties with the most bridges in dire need of repair in Minnesota