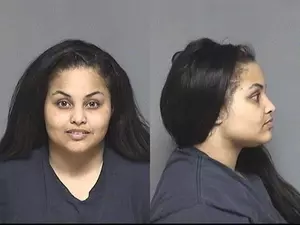 Rochester Woman Sent to Prison for Prostitution Conviction
Dontania Petrie-photo from Olmsted County Sheriff's Office
Rochester, MN (KROC AM News) -  A Rochester woman who was convicted of prostitution last month has been sentenced to 5 years in prison. And she could get more time if convicted of another case that is pending in Olmsted County Court.
Sentenced Monday was 26-year-old Dontania Petrie.
She was charged last year in a prostitution case involving a Rochester police undercover sting. Police identified Petrie as a "madam" who helped another woman meet with an undercover officer. The arrest happened July 24th last year.
Police say the other case began two weeks later when a local man paid her for sex. Police say Petrie contacted the man the next day and gave him a recording of the sex act. She then began blackmailing him over a period of several days. Police say during that time, she forced him to buy her a $15,000 car and give her cash totaling $48,000. He eventually went to police and she was arrested.
Petrie is scheduled to stand trial in that case in July.