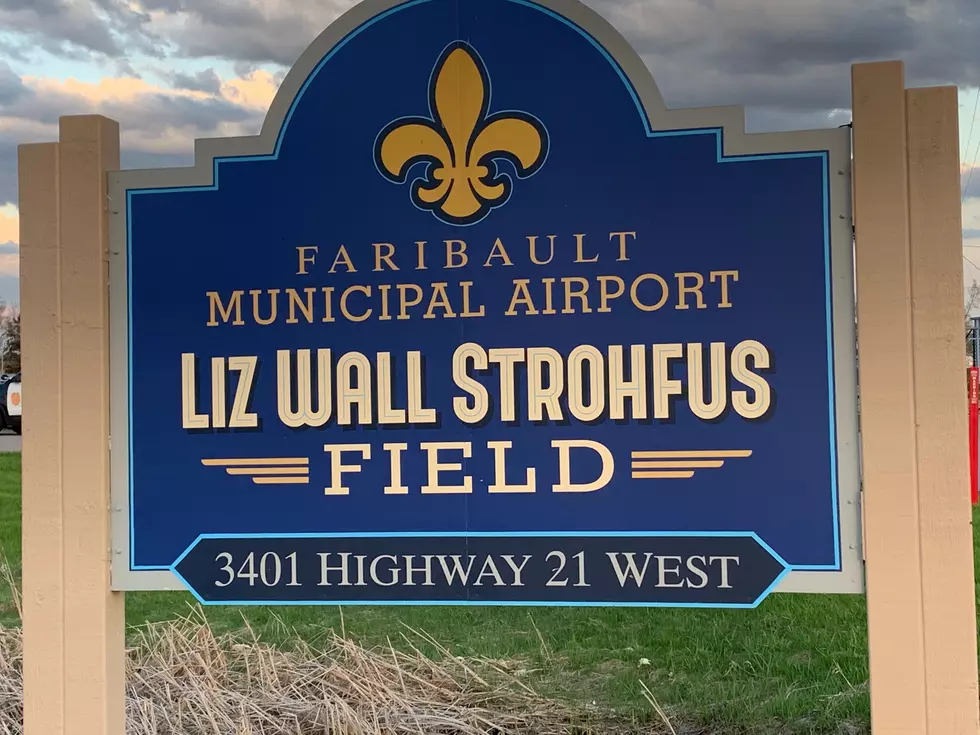 Small Airplane Crashes Shortly After Taking Off At Faribault Airport
Faribault Municipal Airport Sign. Photo by Gordy Kosfeld
Two individuals walked away from a plane crash Thursday afternoon at the Liz Wall Strohfus Airport in Faribault according to both Faribault Fire, and the Rice County Sheriff's Office.
In a press release sent out by Rice County Sheriff Troy Dunn Thursday evening:
"A 2017 Piper single engine fixed wing aircraft crashed about ½ mile southwest of Faribault Airport runway in a plowed field.  The occupants were uninjured.  The plane had just taken off from the Faribault Municipal airport.  The crash is being investigated by the FAA and NTSB."
The pilot of the plane was identified as 25-year-old Skyler Hackett of Prior Lake. The passenger was identified as 33-year-old Todd Guyette of Osceola, WI.
Both Hackett and Guyette walked away from the crash and were spotted by emergency responders as they reached the scene of the crash Thursday afternoon. Both individuals were checked for injury, and none were found. The plane also suffered a small fuel leak after crashing. The crash occurred at 2:13 in the afternoon.
Faribault Fire Chief Dusty Dienst commented that "It's not common to respond to the scene of an aircraft crash and not have injuries or worse.  We are thankful that no one was injured in this incident."
What could have been a sad story, turned out to be one with a much better ending than what could have been expected from those responding to the scene.
Find Peace and Serenity in What May be Minnesota's Most Beautiful Airbnb
This tiny home Airbnb in Grand Marais, Minnesota may be the most beautiful Airbnb in the state. The wood is really pretty, all of the windows are awesome, and the views of Lake Superior are incredible.
22 Scenic Byways That are Perfect For A Weekend Road Trip
Fill that gas tank up, grab a few snacks, and go enjoy one of these amazingly breathtaking drives throughout our state. Minnesota has 22 scenic byways that are the perfect way to enjoy a weekend of exploring. TIP:
Explore Minnesota
recommends viewing these roads on a motorcycle. If that isn't your style, any vehicle will do.