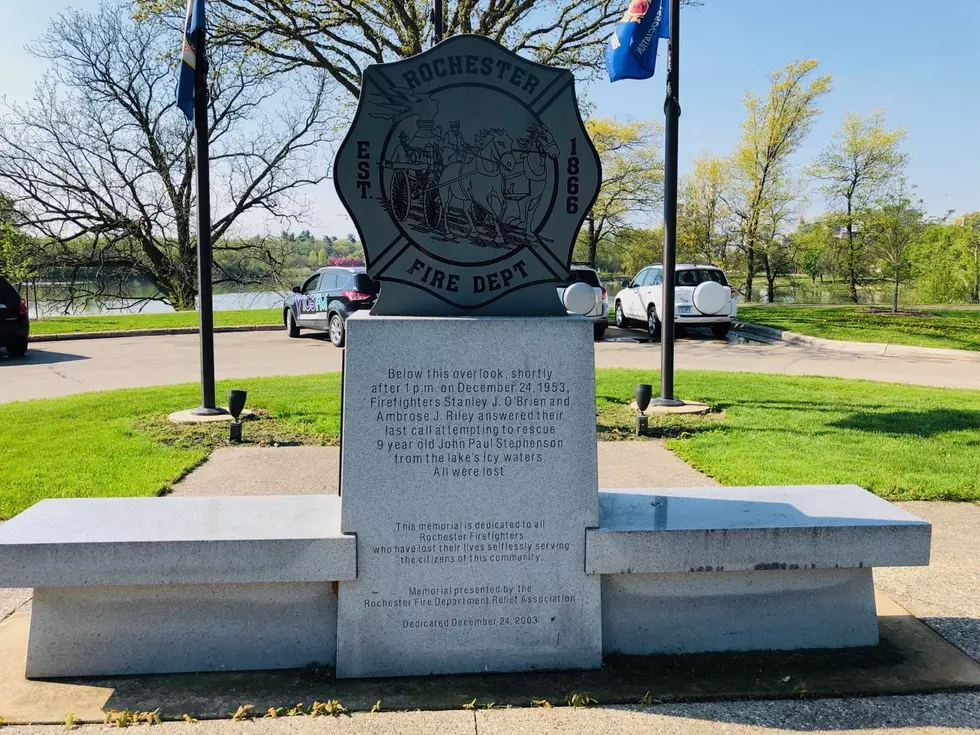 Somber Christmas Eve Event To Be Held In Rochester
Rochester Fire Dept. Memorial/ Kim David/TSM
Rochester, MN (KROC AM News) -  A somber annual ceremony is scheduled to be held in Rochester Friday.
The Rochester Fire Department will hold the event at 8:45 a.m.at the Silver Lake Firefighters Memorial to remember two firefighters who made the ultimate sacrifice on Christmas Eve, 1953.
Ambrose Riley and Stanley O'Brien drowned while attempting to save 9-year-old John Stephenson from the cold water after he had fallen through the ice. The boy also died. The memorial is on the northeast side of the lake and the public is invited to attend.
Here is the RFD story:
The fateful holiday started quietly for the Rochester firefighters, who spent their morning repairing Christmas toys for needy children. At 12:55 p.m., a call came into the downtown fire station reporting a child had slipped through the Silver Lake ice. Riley and O'Brien were two of the first responders on scene and spotted the young boy struggling in icy water off the north shore of the lake. Both men immediately began rescue efforts using a ladder and pike pole, only to find themselves in the water. They reached the struggling boy and were able to briefly slide him onto a floating piece of wood, but the child soon slipped beneath the surface of the lake. Both firefighters dove to find the boy, but all three disappeared from sight for some time. All were found a short time later and pronounced dead, despite resuscitation efforts. Other firefighters on the scene also made rescue attempts, but the difficult conditions left them exhausted and suffering from cold exposure.
RFD says it hopes this ceremony will not only help residents recognize the sacrifices of first responders but also remind them to use caution on and around ice this time of year. This year's event will include statements by a member of the department and a bell ceremony.
Rochester thief steals catalytic converter - in broad daylight
LOOK: 15 Unconventional Christmas Albums From the Past 50 Years